Great Gatsby-style hotels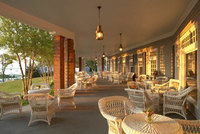 The Great Gatsby is Baz Luhrmann's latest masterpiece, adapted from F. Scott Fitzgerald's literary classic and set in the decadent summer of 1922. Although Luhrmann chose to film in his hometown of Sydney, the locations depicted are New York City and Long Island's North Shore. In honour of the release of this widely anticipated film, the hotel comparison website trivago.co.uk has selected eight hotels fit for a modern day Gatsby.
These hotels envisage where the rich and beautiful would holiday this summer, boasting locations in Long Island, the Hudson Valley, Cape Cod and surrounding areas. Many of these hotels are housed within historic mansions operating in the Roaring Twenties, all of which feature striking exteriors, elegant decor and fine wine and dining. Look no further for the New York City hotel frequented by Fitzgerald himself, or coastal retreats set in acres of beautifully landscaped gardens, evocative of Gatsby's own magnificent mansion.
1. Chathams Bar Inn, Chatham, Cape Cod, USA
Cape Cod is just 200 miles from Long Island, occupying a similar peninsular jutting out into the Atlantic Ocean. A modern-day Gatsby might choose to holiday at this award-winning luxury resort and spa, which was appropriately constructed by wealthy Boston stockbroker Charles Hardy in 1912. Chathams Bar Inn boasts 25 acres of beautifully landscaped gardens overlooking Pleasant Bay, where guests can enjoy fishing excursions and sunset cruises operated by the hotel's fleet of luxury boats. There is a choice between rooms in the historic Main Inn, secluded Cottage rooms on the hotel's private beach, or Spa suites boasting their own hydrotherapy tubs and saunas. The elegant Stars restaurant and ocean-facing Veranda have been restored to their original 1920s grandeur, so guests can feel like participants in one of Gatsby's lavish parties for one evening.
2. The Plaza, New York City, USA
F. Scott and Zelda Fitzgerald were regular patrons at this iconic New York City hotel, which provided the inspiration behind one of the most climatic scenes in The Great Gatsby. It is in one of the hotel's extravagant suites that Tom confronts Gatsby concerning Daisy's extramarital relationship. In honour of the release of Baz Luhrmann's masterpiece, The Plaza has created the Fitzgerald Suite, which is a celebration of the Jazz Age and of Fitzgerald's life and work. Guests will find additional reminders of Gatsby throughout the hotel, including 1920s-style Sunday brunch and the specially crafted Moët Imperial Gatsby champagne cocktail. This luxury five star hotel also offers a total of 252 guest rooms, five of the most elegant restaurants and bars, a leading Spa and beauty salon, and exclusive boutique shops.
3. Harbor View, Edgartown, Martha's Vineyard, USA
Martha's Vineyard is another affluent summer retreat, situated on a picturesque 100 square mile island just south of Cape Cod. Harbor View is a historic and emblematic hotel dating from 1891, which has been welcoming generations of families for decades. The hotel boasts an oceanfront location, elegant exterior, private dock with sailing and fishing excursions and outdoor heated swimming pool. There are a total of 114 guest rooms and suites in the main hotel, the Governor Mayhew Building and in cottages within the extensive hotel grounds. The award-winning Water Street Restaurant offers contemporary New England cuisine sourced from fresh produce and seafood, accompanied by an eclectic American and Spanish wine list. Guests can enjoy a cocktail on the antique veranda, whilst watching the sunset over the picturesque Edgartown lighthouse and harbour.
4. Vanderbilt Grace, Newport, Rhode Island, USA
Vanderbilt Grace invites guests to step back in time to an age of decadence, exquisite comfort and the finest food and drink. This luxurious hotel is housed within an iconic Newport mansion in one of the most prestigious areas of Rhode Island, across the water from Long Island. Vanderbilt Grace prides itself for first-class hospitality and attention to detail, offering each guest complimentary champagne on arrival. Each of the 33 comfortable rooms and suites include a flat screen television, free Wi-Fi, kitchenette and luxurious Penhaligon bath products. The fine dining restaurant Muse offers traditional European cuisine in an elegant environment, whilst the spacious conservatory and landscaped garden terrace offer al fresco dining overlooking the scenic Newport Harbour and Goat Island.
5. The Wauwinet, Nantucket, USA
The Wauwinet is situated on the island of Nantucket, a popular second home and summer destination across the Nantucket Sound from Cape Cod. This sophisticated Relais & Châteaux hotel is in a secluded location neighbouring the Coskata-Coatue Wildlife Refuge, and boasts two private beaches on the Atlantic Ocean and Nantucket Bay. Guests can choose from a range of activities, including lobstering excursions, surfcasting lessons, paddle boarding, bike rides, or simply enjoying the natural beauty of the island. The Wauwinet features 32 uniquely decorated guest rooms, adorned with hand-stencilled furniture, luxurious Pratesi bed linen and freshly-cut wildflowers. TOPPER'S is widely acclaimed as the best restaurant on the island, boasting an impressive 1450 different types of wine and a fine dining menu with an emphasis on local produce and seafood.
6. Tarrytown House Estate, Tarrytown, USA
Located just 25 miles north of New York City, the picturesque village of Tarrytown provides a summer retreat from the city. Tarrytown House Estate consists of two striking nineteenth century mansions, King Mansion and Biddle Mansion, set in 26 acres of landscaped gardens overlooking the Hudson River Valley. Onsite there is an outdoor and indoor swimming pool, spa, tennis courts, plus opportunities for golfing, boating and hiking in the surrounding countryside. Guests can chose from 212 different guest rooms in 11 separate historic buildings throughout the estate, incorporating period features such as beautifully restored staircases and landings. Cellar 49 is a converted wine cellar with a contemporary twist on the classic American Tavern. Guests can enjoy prime aged steaks, draft beers, and an impressive wine list surrounded by original brick archways and distressed wooden beams.
7. The Surrey, New York City, USA
The Surrey was built in 1926 as a residence hotel, home to many eccentric celebrities in F. Scott Fitzgerald's social circle, such as JFK, Bette Davis and Claudette Colbert. Throughout the ages, The Surrey has evolved in to one of New York City's finest modern hotels, whilst retaining its historical integrity. This stylish hotel boasts one of the city's most exclusive addresses, in Manhattan's Upper East Side just one block from the idyllic Central Park. The Surrey offers a range of beautifully created rooms and suites, some featuring fireplaces, private terraces and even a baby grand piano. Café Boulud is a Michelin-starred restaurant offering a unique American twist on traditional French cuisine. Guests should not miss the private rooftop garden, offering signature cocktails, free Wi-Fi and unbeatable views over the New York skyline.
8. The Inn at Fox Hollow, Woodbury, USA
The Inn at Fox Hollow is an all-suite boutique hotel located on Long Island's North Shore, the very location of the fictional towns of East Egg and West Egg in The Great Gatsby. Guests can imagine they are strolling the grounds of Gatsby's mansion in this eight acre estate complete with an outdoor heated swimming pool and landscaped gardens. The Inn at Fox Hollow evokes this decadent era with fine European décor, elegant blue stone floors and vaulted chalet ceilings. Each suite contains a kitchen, separate dining and living areas, a custom platform bed and a deep soaking bath tub for a comfortable and luxurious stay. The Inn is renowned for its impressive American breakfast buffet, whilst Vintage 25 wine bar and lounge provides the perfect atmosphere to relax with an exclusive wine list accompanied by live entertainment.
For more information or to book any of the above hotels, visit trivago.co.uk.