The extended family holiday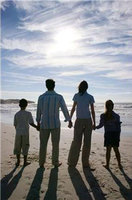 Millions of grandparents are now tagging along on the family holiday, a study has revealed. Researchers found that four in ten adults are asking their own parents to come on the annual summer get-away in order for the whole family to spend time together.
Six in ten said long working hours, re-locating for jobs and hectic social lives mean the three generations rarely spend time together, and inviting granny and granddad keeps everyone happy.
The poll found 40% invite them for the 'grandparent's sake', although a quarter said the kids relish having the grandparents on holiday too.
But 30% are keen to utilize their parents' babysitting skills and said childcare is so much easier if their own mum and dad are in attendance.
One in five said by taking their own parents to places like France, Spain, Italy and Portugal it relives holidays they enjoyed as youngsters
Others head to locations closer to home, the report by Eurocamp found.
The study found six out of ten parents have taken their children to beaches, resorts or countries they have fond memories of visiting whilst growing up.
Head of Brand at Eurocamp, Chris Hilton said: "It's becoming very common place for grandparents to join everyone on the family holiday.
"No doubt it shares the load of childcare but it makes the holiday all the more memorable if the whole family are there.
"Years ago people lived up the road from their parents and grandchildren had regular contact with their grandparents.
"But with more people heading off to university and settling in other cities for jobs and relationships it's inevitable that young children don't get to spend much time with their grandparents.
"So heading off on holiday together seems to be the popular thing to do nowadays."
The study found around one third of adults believe their fondest memories are of traditional family breaks.
One in five said they wanted their children to have the same experiences that they did, and 57% said they wanted to try and relive holidays they had 20 or 30 years ago.
Nearly half of the adults that took part in the survey admitted they are also trying to relive their childhood by taking the kids on the same holidays.
Two-thirds of the adults polled said they want their children's childhood years to replicate their own and 67% said they are trying to teach them the same principles they learnt.
Of the parents polled eight in ten said their children enjoyed family breaks as much as they did and 53% said it was beneficial for their children to see where they went on holiday as a child.
Seven out of ten parents said the holidays you go on completely change when kids come on the scene.Others said their holidays changed for the better as they started to see the world through a child's eyes.
Chris Hilton added: "It's heart-warming to learn that parents enjoyed their holidays as kids so much that they are hoping to recreate them for their children.
"It's only natural that parents want to give their children a holiday to remember and it's a credit to their own mum and dad who provided them with holidays that they are still treasuring well in to adulthood.
"Having been around for 40 years we regularly hear from customers who holidayed with us as a child.
"The research revealed that most memories parents were wanting to recreate were simple things such as camping, swimming, cycling, fishing and long walks."