Experience spa nirvana in Cyprus this summer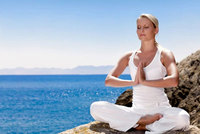 From stunning award-winning five-star beachfront hotels, to secluded agrotourism properties and holistic resorts within the island's mountainous interiors, Cyprus offers the perfect location for an affordable luxury spa and wellbeing break. Wellness tourism continues to be a booming sector for Cyprus, with spas across the island offering the latest advances in beauty and therapeutic treatments alongside more traditional options. The question is now - which one to choose? Here is a selection from the island's wide spa and wellbeing offering:
Zening
Set to open this June, Zening is a new wellness resort that will focus on yoga, meditation and natural therapies, as well as providing a digital detox for all residents. Nestled within 60 acres of lush green hilltops in Latchi, in the unspoilt region of Polis Chrysochous, the resort will comprise 135 newly renovated studios, suites and maisonettes many offering unspoilt views of the Mediterranean - and all without internet access. Guests will also be able to take part in a number of workshops, ranging from emotional well-being and anger management to executive education and language learning.
zening.eu
Ayii Anargyri Natural Healing Spa Resort
Set in a valley of citrus groves, this boutique resort is situated next to Miliou's healing springs in the heart of the Nerades valley offering a unique retreat experience, where guests can enjoy the spring's mineral-rich waters which are channelled into the hotel's own spa. From sulphur pools to meditation, aromatherapy and holistic therapies, there are a range of treatments on offer to rejuvenate both the body and soul. Located 25km from Paphos.
aasparesort.com
Akamas Health Farm & Spa
Nestled on the hills of Droushia at Latchi Panorama, Akamas Health Farm & Spa offers a unique experience with a Luxury Spa with over 60 treatments on offer using the Thal'ion product line, as well as 12 design-led spa suites. Its team of professionals assesses all guests on arrival for a holistic analysis, for both physical and mental wellbeing. Bespoke programmes include a vitality menu, as well as weight management, body shaping and stress-relieving treatments.
cyprushealthfarm.com
Four Seasons Limassol
Located within the Amathus district - just east of Limassol - the Four Seasons offers the perfect base for those wanting to explore the bustling city centre, as well as discover the many other delights the island has to offer, from the nearby Kourion Theatre, through to its hilltop villages home to over 40 boutique wineries. For guests wanting to unwind after a day of sight-seeing, a visit to the hotel's Shiseido Spa - the only one in the entire Mediterranean region - is a must. As well as being the first spa on the island to house a thalassotherapy centre, its signature treatments include: the Qi Method - which combines Shiatsu pressure points with Oshibori (warm, moist Japanese towels) and western massage techniques that help regulate the body's flow, as well as the Spa Serenity - an indulgent 2hours and 30 minutes Japanese influenced body and scalp treatment, stimulating tsubo energy points and restoring balance and calmness.
fourseasons.com.cy
Columbia Beach Resort
Located within the tranquil and picturesque bay of Pissouri and framed by stunning white cliffs, the Columbia Beach Resort offers an oasis of tranquillity for those wanting to escape the hustle and bustle of every day life. Modelled on the layout of a traditional Cypriot village, the property boasts a wide range of exquisite suites situated around a lagoon-style swimming pool fringed with palm trees. For the ultimate in relaxation, head to its Hébe Spa, named after the Goddess of Youth - for one of their signature treatments using products indigenous to the region - from citrus fruits through to grapes, olives and aromatic herbs. The Hébe Ritual will be sure to leave you feeling rejuvenated; unwind as feet are bathed in scents of natural aromatic soap and a blend of pure essential oils are massaged into the skin of your body.
columbia-hotels.com
Getting there: Return flights with Cyprus Airlines from London Heathrow to Larnaca, from £240 (inclusive VAT) per person. For more information, visit cyprusair.com.