Cadbury House beauty therapist wins national accolade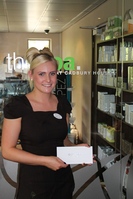 A beauty therapist at a Congresbury spa has been awarded the title of Therapist of the Year by world leading spa brand Pevonia Botanica.
Louise Dutton who works at thespa at DoubleTree by Hilton, Cadbury House was chosen ahead of hundreds of other entrants from across the country to win the prestigious award.
The 22-year-old who lives in Weston-super-Mare has worked at the award-winning spa for the past 15 months and specialises in luxury Pevonia facials.
Louise said: "It is unbelievable that I have won the title of Therapist of the Year and been given the award by such a well-known and respected brand as Pevonia. To win when up against so many other talented therapists is such an honour and it has inspired me to work even harder in the industry that I love.
"Working at thespa has been amazing in itself so this is the icing on the cake; it's a real luxury venue which offers some of the best treatments in the area so it's a pleasure to be part of. The whole team work really hard to make sure we give every customer a relaxing, rejuvenating and luxurious experience. I really enjoy making people feel special.
"I'm very proud of my achievement and look forward to learning new skills at thespa."
Set within the grounds of DoubleTree by Hilton, Cadbury House thespa offers the very latest in spa treatments, relaxing spa days and, hen parties and overnight breaks. The treatment menu is packed with everything from facials and massages to spray tans and gel nails.
Providing a range of holistic and beauty treatments Pevonia is used in the top resorts across the world. To win the top therapist award Louise completed a six-course Pevonia RS2 treatment on a client who suffered from the skin condition Rosacea.
Spa manager Sophie Joules said: "It is a pleasure to have Louise as a member of the team at Cadbury House and we're so proud of her win.
"There really isn't a more deserving winner; Louise is a hardworking and dedicated member of the team with exceptional industry knowledge and understanding.
"Her client interaction as well as her treatment ability shows that she is a real asset and it's great she's been recognised. After Louise's treatment the client's skin showed remarkable improvement which is one of the reasons Louise won."
For more information or to book at thespa, visit theclubandspabristol.co.uk.