Lamborghini celebrates 50th anniversary at Pageant of Power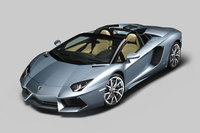 Lamborghini is to celebrate its 50th anniversary – '100 years of innovation in half the time' – at the 2013 Cholmondeley Pageant of Power (14-16 June), giving visitors the chance to experience the heart and soul of the brand as classic and modern Lamborghinis take to the event's 1.2-mile race circuit for full-bore timed runs. There will also be a display of classic vehicles, showing visitors the colourful evolution of the iconic Italian marque.

Lamborghini will showcase its latest models, including the all-new Aventador LP 700-4 Roadster, which has a 6.5-litre V12 engine producing 700 hp that powers the car from 0-to-62 mph in just 3 seconds. This is the first time the car will be on public display in the UK.

Favoured to reclaim the lap record for Lamborghini on the Pageant's tight and twisty circuit will be the Gallardo LP 570-4 Superleggera Edizione Tecnica, the very latest version of the brand's lightweight model. Until 2012, a previous version of the Gallardo Superleggera held the lap record around Cholmondeley, completing the course in just 62.68 seconds.

Marking five decades of production for Lamborghini, there will also be a display of some of the brand's most famous models from its history, including a rare 1988 25th Anniversary Countach, a Diablo, the first model from the brand to top 200 mph, and the Jalpa, one of only 410 ever manufactured by Lamborghini in the 1980s.

Members of the Lamborghini Owners' Club will also be present at Cholmondeley to display their cherished cars to the attending public.

James Hall, Event Director for the Cholmondeley Pageant of Power, said: "Lamborghini has produced some of the world's most beautiful and powerful cars, and the brand is the first that springs to mind of many when the word 'supercar' is mentioned. While the Gallardo Superleggera will once again be contesting to reprise its lap record, the backdrop of the Pageant, with fast and beautiful cars from all eras of motoring and motorsport, will ensure Lamborghini enjoys a loud and typically flamboyant celebration of its first five decades in business."

Now in its sixth year, the 2013 Pageant will take place on the Cholmondeley Estate in Cheshire from 14 to 16 June, celebrating power and performance in its many forms. Until 13 June, adult tickets start at just £24 for the Friday Preview Day, and £32 to see all the action on Saturday or Sunday. Under-16 tickets are currently available from just £5 for the Friday Preview Day and £7 for Saturday and Sunday tickets.

To buy tickets or find further information, visit cpop.co.uk.