Halls' Croft celebrates its 400th anniversary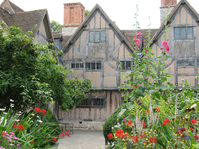 Hall's Croft, the elegant 17th century marital home of Susanna, daughter of William Shakespeare, is celebrating its 400th anniversary this year. The house was built in 1613 for Dr. John Hall and his wife Susanna, who lived there until Shakespeare's death in 1616, after which they moved into New Place left to them in Shakespeare's will. To mark this momentous occasion, Hall's Croft is celebrating with a number of special events; including birthday celebrations, live theatre in the garden and a live Jazz evening.
The exhibition, designed and presented as a house party, focuses on the history of the house and its residents, over the last 400 years. Past owners include Henry Smith, whose family was associated with the house for over 100 years. Henry Smith, who inherited the property, was the only surviving trustee of the Shakespeare estate when it was sold in 1675.
Later, notable visitors include Mahatma Gandhi, Winston Churchill, their Royal Highnesses the Duke and Duchess of Windsor and Actor/Director Anthony Quayle, who was the last occupant before the house was sold to the Trust in 1949. It is also believed Laurence Olivier and Vivien Leigh once stayed.
Join the wedding celebrations of Dr John Hall and Susanna with 'A Wedding to Prepare' from Saturday 25 May – Sunday 2 June where visitors can discover the wedding traditions of the times, whilst wandering the very same rooms and corridors John and Susanna did on their wedding night. Normal admission applies.
The Festival Players theatre group will perform 'Romeo and Juliet' in the garden on the 9 June & 'A Midsummer Night's Dream' on the 18 August. Tickets at £11-£15. To book please visit thefestivalplayers.co.uk
From 24 August – 7 September visitors can enjoy a series of 'Concerts in the Garden' - musical events by professional and amateur groups, including special children's performances and workshops.
Betty Leggett, wife of the New York grocery millionaire, Francis H. Leggett, took up residence with her sister Josephine McLeod in 1913, transforming the house into a haven for high profile guests to enjoy long summer nights in the glorious walled garden and intimate suppers in the spectacular long gallery. Visit the house on Saturday 7 September for 'All that Jazz' from 7.30pm - 9pm to relive Hall's Croft's party past. Enjoy a long, lazy evening of jazz and good food as you are transported back to the 1920s and 30s. Visitors are encouraged to dress in their finest vintage clothes to help re-create that most playful of times. Prizes will be awarded for the best costume; tickets at £15, per adult. Picnics are available from the café, either to pre-order or purchase on the night.
For those getting married themselves, the Shakespeare Birthplace Trust invites couples and their guests to have their wedding photographs taken in the picturesque and historic garden at Hall's Croft for a small fee; canapés and champagne available to order from the Café to help celebrate your special day. To check availability or to book any of the available options, please contact Marie Dufaud, Operations Manager at Hall's Croft on 01789 292107 or by email to marie.dufaud[at]shakespeare.org.uk
Passes to all five Shakespeare Houses and Gardens are great value and best of all valid for a full year - with unlimited entry. For the price of one pass, you can enjoy days out at the Shakespeare Houses and Gardens all year round – for free! Passes at £22.50 for adults, £13.50 for children, £20.50 for concessions and £58 for a family (includes up to 4 children). The pass includes a visit to Shakespeare's grave at Holy Trinity Church.

Visit the website at shakespeare.org.uk for more information.