Luxury, efficiency and performance as standard in Jaguar XF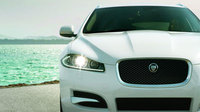 The 2014 XF Saloon and Sportbrake with Jaguar's ECO2 powertrain represent a compelling combination of elegance and real-world efficiency, helping to reduce the tax burdens on drivers and fleet managers alike while still retaining the luxury and refinement already associated with the XF range. The 2.2-litre four-cylinder ECO2 engine is offered in combination with Jaguar's Intelligent Stop-Start system and an eight-speed gearbox, enabling the MY14 XF to deliver the performance and driver appeal expected of a Jaguar along with reduced emissions and greatly improved fuel consumption.

ECO2 turbo diesel engine

Jaguar's new four-cylinder, 2.2-litre diesel 163PS ECO2 engine, which works in combination with an eight-speed automatic transmission, has new larger Exhaust Gas Recirculation valves and a revised cooling assembly which combine to reduce emissions figures by a further 6g/km of CO2 over the 2013 Jaguar XF. The new car is capable of achieving 57.7mpg with a CO2 figure of just 129g/km. An appealing proposition to company car drivers and fleet managers, this XF represents all the benefits of driving a Jaguar along with greater fuel economy and reduced emissions.

TSS/Stop-Start system

The low emissions produced by the ECO2 engine are helped further by Jaguar's Stop-Start system, which uses a Twin Solenoid Starter (TSS) to shut down the engine when the car comes to a halt and restarting it in less time than it takes for the driver's foot to move from the brake to the accelerator. The system also offers 'change of mind' functionality, enabling the engine to quickly restart even during its rundown phase to allow the driver to, for example, exploit a gap in traffic at a junction. An illuminated 'ECO' symbol appears on the Instrument Panel when the engine has been stopped by the system. Stop-Start can be turned off manually, but it will automatically be turned on again for the vehicle's next journey with every ignition cycle. The system operates in all modes apart from Reverse.

The MY14 XF has a secondary battery fitted specifically for engine re-starting, meaning that all the normal car systems – such as the entertainment system, the ventilation and lights – continue to receive power from the standard car battery and are unaffected by the re-start. In addition, a complex control system ensures that the Stop/Start operation only occurs when the car does not require the engine for other functions.

New features

The MY14 Jaguar XF sees the introduction of extended navigation system features that provide more focused and intuitive mapping as well as iGO primo, which adds a range of comprehensive address search options, a smart keyboard and one-way road visualisation, among a host of additional benefits.
Jeremy Hicks, Managing Director of Jaguar Land Rover UK said: "The 2014 XF with this revised engine calibration opens up the unique Jaguar ownership experience to a whole new segment. Cost-conscious drivers, business users and fleet managers will be able to enjoy the refinement, luxury and seductive design of a Jaguar while benefiting from its low emissions and high fuel efficiency."