Throw yourself a Royal Party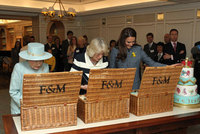 With Buckingham Palace's four-day public garden party looming in July and a Royal Baby on the horizon, the Royal Household is sure to be in party planning mode.
Held in the gardens of Buckingham Palace to mark 60 years since Queen Elizabeth II's Coronation, the Coronation Festival is a one-off event bringing together over 200 companies that hold the prestigious Royal Warrant of Appointment. Established in 1840, Royal Warrants are a mark of recognition for those that have supplied the Royal Households with goods or services for more than five years.
With Warrant Holders spanning all industries, and spread right across the country, you too can shop, eat, dress and indeed party like a royal. Here's VisitEngland's guide to the key ingredients that go into a regal bash.
Bottles of Bubbles
It wouldn't be much of a party without the pop of a cork and an overflow of Champagne. And to emulate Her Majesty, you need look no further than your local Waitrose. The first supermarket chain to be awarded a Royal Warrant by the Queen, the branch in Windsor is a regular supplier to the Royal Household, and with shops all around England, extravagance need not be a journey too far.
For an authentic English wine tasting experience, head to Chiltern Valley Wines in Oxfordshire and try before you buy. Holding a Royal Warrant since 2007, the vineyard is located in an area of outstanding natural beauty that's the perfect spot for wine tours and tastings, £15 per person.
The Icing on the Cake
Located just six miles from Her Majesty's Sandringham Estate, the Suffolk market town of Kings Lynn is home to the crown jewels of the area's cake shops and bakeries. Smiths the Bakers - run by the same family since before World War II - serves treats for the sweetest of teeth. For a personal touch, put in an order for a classic Victoria sponge and head to Richard Hughes Cookery School at The Lavender House for a class on cake decoration to really impress your party guests - without any help from Pippa.
Serve up Fortnum and Mason tea and cucumber sandwiches with Essex's Wilkson & Son condiments on beautiful Wedgwood China from England's capital of porcelain, Stoke-on-Trent. Have-a-go activities at the Wedgwood Centre start at just £5.
Bunting and Bouquets
Bunting and banners should be big, bold and beautiful for unashamed party peacocking. To make a grand statement, wing over your own design to Yorkshire's Flying Colours Flagmakers. Manufactures of flags, banners, and bunting, you're sure to have seen their handy work flapping above the Royal Households.
Pay attention to ground level décor too with exquisite and lavish floral decorations to adorn your tables. Those with a flair for florals can book a flower-arranging class with Chelsea Flower Show medalist, Hampton Court Flower Show Designer and Royal Warrant Holder Rosemary Hughes. If the thought of all that hard work poops your party spirit, head instead for the beautiful displays of Royal Warrant holding florist Edward Goodyear.
Suited and Booted
Prepare to put on a show and dress like a prince or princess from head to toe. It's your party, after all. Ladies should start with lingerie from London's Rigby and Peller and hosiery from Leicester's Wolsely, with outerwear from the likes of Burberry or Stuart Parvin. Pair with your favourite pair of Anello & Davide shoes and some crown jewels of your own from Benny.
For boys, tailoring is key. Party kings can get their bespoke suits measured up at Market Harborough's Frank Hall Tailoring, and match them with a crisp shirt from Grosvenor shirts.
Or consider a tailored tour of Savile Row, where picky princes can choose between myriad Royal Warrant Holders including Gieves & Hawkes, Benson & Clegg and Henry Poole. Take in the whole lot on a fashion insiders' tour with Urban Gentry. A three-hour private tour for you and up to four of your entourage costs £165 and is completely customised according to your taste (or shopping list).
Before your guests arrive, splash on some panache with one of Penhaligon's fragrances. The perfumer offers a perfume profiling service - sit down with a cappuccino and choose your favourite tones and scents before the expert staff match you to a perfect perfume. Free of charge and there's no need to book - Penhaligon's offers this as a walk in service.