Making the hottest Seat Leon of all time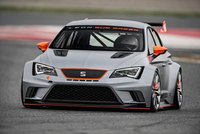 Seat has released a video charting the development of the Leon Cup Racer – the ultimate embodiment of Seat's racing DNA.

Through time-lapse photography, the quirky video shows the creation of the car from its Leon production basis through to the stripped-out, flared and fiery racing car that will take on the Goodwood Hillclimb next month.

The Leon Cup Racer is already available to order by racing teams across the globe, with the first cars expected to hit the track at the start of the 2014 motorsport season. "Seat is committed to motorsport, and the Leon Cup Racer is the answer," says Dr. Matthias Rabe, Executive Vice President for Research and Development.
The Leon Cup Racer gives a very clear indication of what a Seat touring car might look like, and has been developed to adapt to a wide range of racing series globally. Its development will continue in the coming months, and every buyer will receive a full package of support from Seat Sport.

"We have succeeded in making the new Leon much better than the old one, and now we will repeat this success on the race track," declares Jaime Puig, Director of Seat Sport.

Powered by a 2.0-litre turbocharged engine with 330 PS and 340 Nm, the Leon Cup Racer's development was focussed entirely on the pursuit of quick lap times. Its track width is 400 mm greater than the production Leon's; its body kit is designed for maximum efficiency, both aerodynamically and in terms of brake and engine cooling; its interior is stripped out to minimise weight, and includes a full roll cage; its instrument panel is a race-specific high resolution TFT display.

Customers can buy a Leon Cup Racer now, for €70,000 with a six-speed DSG twin clutch automatic transmission, or €95,000 for an endurance version including a sequential racing transmission and a mechanical differential lock.

"With two versions for sprint and endurance racing, the Cup Racer is ideal for an extremely broad palette of racing series – from the ETTC to the VLN Endurance Cup on the Nurburgring," says Jaime Puig. "We can also envisage further developing the Cup Racer to create a WTCC version with a 1.6-litre engine. After all, we have a great tradition to defend there."