Swedish Metal takes on German Techno in the Volvo V40 Challenge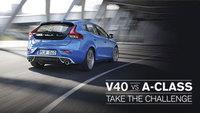 Volvo Car UK is taking the unprecedented step of putting its all-new V40 in direct competition with its class rival, the Mercedes A-Class, in a test drive comparison with a difference.

Under the tag line "Bored of German Techno? Try some Swedish Metal", Volvo is asking customers to challenge their perceptions and test drive both the V40 D2 R-Design and the Mercedes A-Class A180 CDI BlueEFFICIENCY Sport. After driving the two cars back to back, if the customer still chooses the Mercedes, Volvo will pay the first month's payment.

Since launch, the all-new Volvo V40 has received many positive media reviews, strong customer feedback and become Volvo's best-selling model in the UK. A five-seat five-door hatchback with three faces, in the form of the standard V40, the V40 R-Design and the V40 Cross Country, it allows drivers to choose the car that suits them.

The V40 Challenge is being targeted at those considering purchasing the Mercedes A-Class A180 CDI BlueEFFICIENCY Sport and asking them to give the V40 D2 R-Design a test drive. If after test driving both vehicles the customer chooses the Mercedes, Volvo Car UK will pay for the first month's payment.

Jon Wakefield, sales director for Volvo Car UK said: "The all-new V40 has been a roaring success since its introduction and we have such belief in the V40 being a fantastic product that we're being bold enough to put our money where our mouth is. I have no hesitation in telling people what a great car the V40 is, and by getting more and more people to test drive it, I'm sure more and more people will agree with me."

"Some may call us brazen, others may call us bold, but there's no denying that we have such confidence in the V40 that we're prepared to challenge people's opinions and make them consider their options. This campaign is sure to raise a few eyebrows!" says Georgina Williams, head of marketing for Volvo Car UK.

The all-new Volvo V40 was launched in Geneva in 2012 with the R-Design and Cross Country versions launched in Paris in 2012. Up to the end of May, Volvo Car UK have registered 4905 all-new V40s, accounting for just under 36% of all Volvo Car UK sales and successfully taking the place of the C30, S40 and V50.