Mum's the word - for a daughter's beauty tips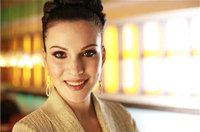 Women steal up to two dozen style and beauty tips – from their mums, it has been revealed. Researchers found mum is the major style influence for millions of women, who take on board hints, tips and habits passed on to them over the years.
Among the most common pieces of advice women take on board from mum are blending in make-up around the jawline, never showing too much cleavage and always carrying a spare pair of tights.
Investing in a good handbag was another pearl of wisdom mums passed down to their daughters.
Also on the list was to always sit up straight, avoid sun exposure, invest in good quality skincare products and the age old adage that 'less is more'.
Only pluck below the eyebrow, use tissue to blot lipstick to make it last and highlight eyes or lips – not both – are also tricks of the trade handed down through generations.
The poll by Lancôme, to promote the launch of their new Advanced Genifique serum, also found girls start to take on their mothers fashion and beauty tips between the ages of 11 and 20.
A spokeswoman for Lancôme said: "It's heartening mothers and daughters share a similar style.
"Most women have a genuine interest in fashion and beauty and it's nice grown women are still chatting to their mum about what products they're using and what suits them.
"We inherit so much from our mothers they are always going to be the most trustworthy person to turn to, and on the whole women tend to have a similar skin tone, body shape and colouring as their mother, so who better to speak to.
"Many women look to their mums as a gauge to see how they are going to age which is very interesting us as our scientists have devoted years to the study of Genes and their role in youth and beauty."
The study also found women trust their mum's opinion more than a celeb style expert, and a third of the 2,000 females polled even admitted they totally rely on their mum for advice.
More than half of women always run a new outfit choice past their mum to see what she thinks, and 30% said they wouldn't wear it if their mum didn't approve.
But a whopping 90% of those polled said their mum does exactly the same with them and they return the favour.
Mums often share in the style too – one quarter of girls share handbags with their mum, 15% regularly swap make-up and one in five regularly switch perfume and skincare products.
But it's not just mum's knowledge women apply to themselves, as 14% said they also steal pearls of wisdom from their grandmothers too.
By contrast, exactly a third of females said they don't rate their mother-in-laws opinion all.
The research also found 52% of women adopt the same skincare routine as their mum, and 29% look after their hair in the same way as mum.
More than one in 20 females even confessed they have exactly the same style as their mother, and 25% said they have similar elements.
Most women polled described their mums style as casual and laidback although a quarter said her mum favoured a more classic and elegant look.
One in ten women went as far to say they were jealous of their mums overall image.
Of those polled, 26% said they hope to look as good as their mum does when they get to the same age, although 23 said it was a dead cert because they have the same genes.
A spokeswoman for Lancôme's new Advanced Genifique serum added: "The genes a woman shares with her mother have a lot to with how she ages.
"However you can't just rely on your mum looking young to ensure you will age in the same way, you still have to adopt a good skin care regime and invest in good quality products.
"Our Scientists have devoted years of research to skincare and beauty, and have identified a protein profile specific to young skin and are able to recognise specific genes that contribute to skin's youthfulness."
Top tips from mum
Always remove make-up before bed
Moisturise all the way down to your neck
Wear properly fitting bras
Never pluck above your eyebrow
Less is more
Always apply sun screen
Never shave your legs above your knee
Blend in foundation well around the jaw
Never get a tattoo
Not to wash your hair everyday
Sit up straight to avoid a hunch-back
Never wear a black bra under a white top
Don't sit in the sun
Invest in a good face cream
Always iron your clothes
Never show cleavage and legs – show one or the other
Don't use soap on your face
Always carry a spare pair of tights
Blot lipstick to make it last longer
Always carry a handkerchief
Don't dye your hair lighter than your brows
If investing money shoes or bag opt for a classic style
Emphasise eyes or lips with make-up, not both
Do a final hair rinse with cool water
Pat your face with a towel, never rub
Must have a good LBD for funerals and meetings
Invest in a pair of black heels
Never wear an ankle bracelet
Go a day a week without make-up
No matter what always wear lipstick and mascara