Milltek launches new VW T5 exhaust system for all models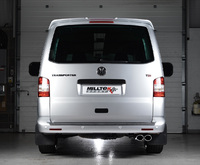 Milltek's latest exhaust system has been tailored to fit the world's favourite 'box on wheels'; the VW T5. VW's incredibly versatile platform has found favour with everyone, from tuners to tilers and from holiday makers to hot-rodders. Milltek's beautifully engineered system offers proven performance gains with a most un-diesel-like sound track.
Fabricated from the finest 70mm non-magnetic stainless steel, and hand-finished in Milltek's Derbyshire factory, the T5 systems can be ordered either as a cat-back or full turbo back system, which includes an optional Diesel Particulate Filter bypass pipe for optimum performance, on the 2.0 bi-Tdi only. Both sound incredible, but the latter makes the car really sound like a purposefully-tuned petrol vehicle; no bad thing! Available with or without a centre silencer, owners have the choice of enjoying a more sporting tone (without being intrusive or droning) or to simply enjoy the extra performance without the sound.
Two tailpipe options are available; either a twin oval for the style-conscious, or for those that like to keep things 'OEM+', a discrete, hidden option that tucks away behind the bumper. Only the improvement in acceleration will give the game away! Ah yes, performance; something the Milltek T5 system offers in bucketloads. When mated to performance software, gains of up to 220bhp have been recorded. A T5 thus equipped, and built by ECU experts Revo, recently returned from the Nurburgring, where it managed a 'Bridge to Gantry' time of just 9 minutes and 22 seconds.
Whether you chose the system for looks, sound or performance, it offers each in impressive measure. Guaranteed to fit perfectly and give a lifetime of driving enjoyment, prices start from £288.71 + VAT for the cat back, non-resonated 'discrete' system.
For more details, visit millteksport.com.