Bridal radiance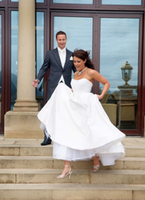 Every bride yearns for their skin to look flawless and radiant on their special day, and with Armathwaite Hall Country House Hotel & Spa's glowing absolute pearl facial by [ comfort zone ] - blushing brides are guaranteed a look that is both naturally glowing and serenely unflustered.
With ingredients including the purest pearl powder, an ancient Chinese tradition renowned for its precious anti-ageing effects, and vitamin C favoured for its collagen production and illuminating properties, the absolute pearl facial is perfect for tackling pigmentation and transforming dull, tired-looking skin. The active anti-oxidant ingredients visibly help to give a uniform colour and protect the skin against ageing aggressions such as the sun, pollution and inflammation, leaving it younger looking and positively glowing!
Armathwaite Hall Country House Hotel & Spa is a place to retreat, relax, restore, revel in the natural beauty of the stunning location, enjoy the sophistication of the facilities and benefit from the treatments available which are chosen for being results driven to ensure complete satisfaction.
The spa's facilities include a 16 metre infinity swimming pool with indoor waterfall, a thermal zone, fitness suite, dance studio, treatment rooms including one couples room complete with private whirlpool bath, a 'hush' tranquility room with a veranda overlooking the gardens and a private spa lounge with a central fireplace and dining area.
Visitors to the Spa can take the woodland trail down to the lake to appreciate the pure tranquility and beauty of the location or simply unwind in the deliciously warm water of the outdoor hot tub which overlooks the gardens – an experience not to be missed!
For further information, visit armathwaite-hall.com.