Miller Homes offers buyers a helping hand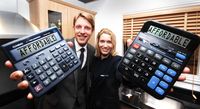 Miller Homes West Midlands has seen an increase in viewings at developments across the region since the government's Help to Buy scheme was introduced on April 1st.
The scheme offers assistance to house hunters who only have a small deposit of 5%. A 20% equity loan is provided from the Government for those who meet the qualifying criteria, which means buyers only need to secure up to a 75% mortgage from a bank or building society.
Now Miller Homes is offering buyers the chance to catch up with independent financial experts at event nights and weekends running at developments across the region.
Paul Walters, associate director at Miller Homes West Midlands said: "The Help to Buy events we are running have already proved popular. Whole of market financial advisers are on hand to guide buyers through the range of schemes on offer and our sales team can offer details on the new properties available.
"It can be daunting taking your first steps onto the property ladder or taking on a bigger house and our aim is to make the whole process as simple and stress free as possible."
Helen Pierson is new homes director at Linear Financial Solutions. Her team works with Miller Homes at Help to Buy events and here she outlines the main benefits of the scheme:
1. Many people think the scheme is only open to first time buyers but that's not the case. Help to Buy is available to home movers too offering a boost to those who want to move up the property ladder.
2. There is no restriction on the type or size of the new build property that you can buy as long as the purchase price is no more than £600,000.
3. Lenders view the 20% equity loan as part of the deposit, so monthly mortgage repayments can often be lower than the cost of renting a similar property
4. The equity loan is completely interest free for the first five years – making the total initial monthly repayments less on Help to Buy than Shared Ownership, where a rent is payable from day one.

5. The client owns the whole of the property and can sell at any time after year one as long as they repay the equity loan at this point (please note, your home may be repossessed if you do not keep up repayments on your mortgage).
Miller Homes West Midlands has developments across the region in Staffordshire, Birmingham, Gloucestershire, Coventry and Shropshire.
For further details on Miller Homes' developments across the West Midlands and Help to Buy events visit millerhomes.co.uk/explore/westmidlands.