More practicality for Swift Sport - now with five doors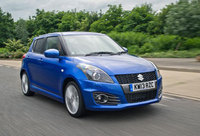 The Swift Sport is the performance flagship of the Swift model range and offers higher levels of tuning, steering and braking performance than the standard Swift on which it's based. The sporting experience combined with low cost of ownership has earned it many devoted fans around the world. For the 2013 model update, and in response to customer demand, Suzuki is introducing the five door model to provide further practicality and seating for five.

Befitting its status as the performance flagship of the Swift model range, it reflects the pursuit of even better handling, driving performance, environmental compatibility and an uncompromising focus on quality. Overall, it offers a rewarding experience of Suzuki's sporting DNA.

Suzuki launched the Swift Sport in a growing number of Countries in 2012 and sales in the UK are 1,200 units per annum, of which around 450 units will be the five door model. Swift Sport volume accounts for 10 per cent of the total for the Swift range.

The Swift Sport's M16A engine offers power combined with low emissions. The engine has a variable intake system and an optimised intake VVT (Variable Valve Timing) for increased valve lift, maximum output is an impressive 100kW (136PS) and maximum torque is 160Nm at an engine speed of 4,400 rpm enabling the driver to enjoy superb performance across the rev range. The engine's high output is combined with excellent fuel economy of 44.1mpg on the Combined EC Cycle with CO2 emissions of 147g/km. The Sport is fitted with a six-speed manual transmission as standard and has a bespoke exhaust system with twin tailpipes, one on each side of the rear diffuser.