Explore the stunning Isle of Anglesey this summer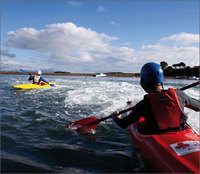 The Isle of Anglesey has plenty to offer every kind of holidaymaker this summer season, from relaxing weekend retreats, outdoor adventures to historic trips discovering the gems of this beautiful Welsh isle.
Hosting a range of luxury self-catered cottages, boutique hotels and local guesthouses, there is a wealth of unique accommodation to choose from on Anglesey not to mention a variety of eateries serving up the best of local cuisine.
What to do...
Walk the Walk
Walk the Walk on Saturday 20th July is an organised walking festival, embracing the stunning views and walking routes across the island. Based in Beaumaris, the event will include the best routes for walkers of all abilities, entertainment from local performers and a 'Little People's Corner' where storytellers will leave the children spellbound. It's a great opportunity to discover the isle's variety of attractions and history.
Anglesey Water Adventure
Get to grips with the outdoors and feel energised with the wide range of exhilarating outdoor water activities on offer in Anglesey from kite-surfing to kayaking across the 125 mile coastline.
After an action-packed day, you can head back to one of Anglesey's True Retreat cottages and put your feet up - a range of bespoke holiday homes to satisfy the needs of couples, families and groups of friends.
Holyhead Traditional Sailing Festival
An important event on the sailing calendar (26-28 July), is the Holyhead Traditional Sailing Festival centred around the marina and Holyhead Sailing Club. A land train to Newbry Beach will run visitors there free of charge on Friday and Saturday.
As well as racing, visitors can enjoy a parade of sailing, involving sea battle with cannon and rifle from the Anglesey Hussars while back on dry land, the whole family can throw themselves into activities such as shore kipper smoking, rope making, coracle building and shanty singing.
Round Anglesey Race
On Saturday 3 August, the annual Round Anglesey Race will see sailors circumnavigate the shoreline of the Isle of Anglesey. Always exciting and often hair-raising, this legendary race gives enthusiasts the chance to sail around its stunning coastline in demanding sea conditions. A joy to watch from the shore, sailors wouldn't miss this race for the world.
For further information visit roundangleseyrace.com
Where to Stay...
Plas Rhianfa
The Plas Rhianfa, is 5 star, luxury boutique hotel located on the Menai Strait. The hotel and spa offers 21, uniquely decorated rooms as well as three self-catering options, with striking views over the coastal scenery.
Tre-Ysgawen Hall
A stunning location to start your trip in style. This luxury hotel and spa, nestled in acres of secluded landscaped gardens offers luxury accommodation and a state-of-the-art spa for some real R&R during your stay.
Ye Olde Bulls Head In
Escape to the Anglesey coast and unwind in the lively and convivial surrounding of one of Wales' finest historic inns.
A combination of mouth-watering food in either the fine dining Loft Restaurant or popular Brasserie, along with five star accommodation has earned the Bull a reputation as a destination in its own right.
Foodie Favourites...
If you want to savour every flavour the island has to offer then you're in luck. This fertile land is known for its plentiful food offering and the Farmers Market, held every third Saturday on the Menai Bridge, showcases just that.
Halen Môn is recognised across the globe as the Anglesey sea salt from the Menai Strait. Smoked to top chocolate, mixed with vanilla pods or combined to add savoury flavours, this distinctive salt is favoured by top chefs
While at the market, why not also sample the delights of Y Cwt Caws creamy goats cheeses, Derimôn oak smoked Anglesey wild sea bass or the Cemaes Bay Lobster & Crabs.
Dylan's Restaurant
If you want to make a night of it and fancy a fresh seafood dish serving the finest mussels, head to Dylan's, a restaurant ideally located at the water's edge, overlooking stunning views of the area.
Menai Seafood Festival
If you want to learn more about the fresh produce from around the Anglesey shores, try the Menai Seafood Festival on Saturday 31st August and Sunday 1st September. It will no doubt leave you feeling educated, inspired and ready to dish up some seafood dishes.
For more information, see visitanglesey.co.uk.