Look, no hands! The hot, new massage trend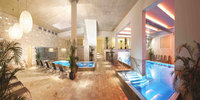 Thought you'd tried every treatment under the sun? Hot stone massage, check. Chocolate wrap, check. Vampire facial, check. Well, enter 'Padaghata'or 'pressure by foot', an Ayurvedicfull-body massage performed using only the therapist's feet.
First, oil is dripped onto the body before the deep tissue massage begins. The client lies on the mattress on the floor while the therapist's hold onto a rope to balance their weight evenly, skilfully using their feet and even their knees to create intense pressure. This deeply relaxing treatment can be finished off with a steam detoxification, to further remove excess fat and toxins from the body. The treatment is said to reduce deep-seated pain in the joints and muscles and even boost the body's immunity.
This skilful, ancient treatment is offered at the UK's original Ayurvedic destination spa – Ayush Wellness Spa. Situated in picturesque Jersey, Ayush offers a unique contrast between authentic Ayurvedic therapies and luxurious spa treatments.
The magnificent rooftop spa promises to bring body and soul back into balance through ancient Sanskrit philosophies. Housed within the acclaimed Hotel De France, Ayush provides the perfect retreat for those looking to escape the city.
The concept of Ayurveda originated in India more than 5000 years ago and translates as 'Science of life'. As the oldest healing science known to man, Ayurveda projects the belief that to achieve true health we must be in physical, emotional and spiritual balance.
For enquiries or to make a reservation, visit ayushspa.com.