The SX4 S-Cross - Pricing announced for Suzuki's all new crossover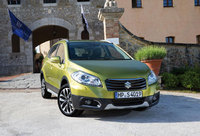 The new SX4 S-Cross goes on sale on 1 October and Suzuki is pleased to announce pricing and specification details for the range starting at £14,999 for the SZ3 1.6-Litre petrol.

It has only been a few months since the new SX4 S-Cross was unveiled at the Geneva Motor Show and its key features speak a clear language: Suzuki once again shines as a true expert in the field of crossover and four wheel drive cars.

SX4 S-Cross is the latest of Suzuki's world strategic models and makes strong statements in styling, impact safety, driving performance, handling as well as offering low fuel consumption and low emissions.

Striking crossover styling gives a remarkable, bold and sporty look. The distinctive design offers ample room for passengers and luggage and the world's first double sliding panoramic glass sunroof has the largest opening area in this category. Next-generation four wheel drive technology with the internationally acclaimed handling of the Swift, and cutting edge active and passive safety features leave no room for doubt: The new SX4 S-Cross is far more than just a crossover vehicle – it's the perfect fusion of family-friendliness and safety, performance and emotion.

When Suzuki's designers and engineers began developing the SX4 S-Cross they realised they needed to "think bigger" to be able to respond to customer expectations with regard to crossovers in Europe and other parts of the world.

Suzuki created the new SX4 S-Cross by combining its compact car know how with technologies honed for sport utility vehicles. As a result of focusing on giving the new S-Cross distinctive crossover styling, class leading space for passengers and luggage, next-generation 4WD performance and one of the lowest CO2 emissions in the segment, it achieves a remarkable combination of styling, utility, safety, performance and fuel economy. It is a model which can offer great driving enjoyment and versatile family usage to many more people in a wide range of situations.

Suzuki will build the new model at the Magyar Suzuki plant in Hungary; Magyar Suzuki plays an important role as Suzuki's European production centre and the launch of the new model will mark the start of an expansion programme in which it will extend its exports to more countries, increase its production volume, and establish itself as an important manufacturing base for Suzuki's global strategy.

A range of eight exterior colours will be available for the UK market including a new option – Crystal Lime Metallic.

Performance
A blend of all-terrain crossover capability and on-road performance
A powertrain delivering environmental compatibility and great performance
Transmission systems which heighten driving pleasure
Remarkably low CO2 emissions for a C-segment crossover

The performance results from an exceptional combination of attributes: 4WD SUV capability, great handling – derived from the Swift – direct straight-running stability thanks to a long wheelbase and low CO2 emissions and fuel consumption – fulfilling the global need for environmental compatibility.

Continuously Variable Transmission

The optionally available continuously variable transmission (CVT) for the 1.6-litre petrol engine extends the range of gear ratios for an outstanding combination of acceleration, hill-climbing performance and fuel economy. A newly adopted built-in oil cooler ensures superior cooling performance for high speed driving and a straight shift gate providesease of use. Additionally, a seven speed manual programme select mode allows the driver to shift up and down using paddles behind the steering wheel. A further advantage of specifying the CVT system is that the CO2 emissions are even lower than for the manual and if the 4WD model is chosen, it offers further improvements to fuel economy too.

CO2 emissions

The CO2 emissions for the new S-Cross petrol models are 127g/km with 2WD manual transmission, 125g/km with 2WD CVT, 135g/km with 4WD manual transmission and 130g/km with 4WD CVT. The CO2 emissions for the diesel models are 110g/km with 2WD manual transmission and 114g/km with 4WD manual transmission.

New ALLGRIP 4WD technology

ALLGRIP is Suzuki's new generation 4WD, created by evolving the company's renowned 4WD technologies to provide driving enjoyment and peace of mind in diverse conditions while promoting economy and limiting the strain which 4WD cars place on the environment. The four-mode 4WD system in the new SX4 embodies ALLGRIP technology.

Four-mode 4WD system

The 4WD system has four driver-selectable modes – auto, sport, snow, and lock.

Integrated control of the engine, transmission, ESP®*, etc., allows selection of an optimal mode to suit road and driving conditions. The driver selects the desired mode using a simple push and turn dial on the centre console.
Panoramic sunroof

The panoramic sunroof is a world first*, consisting of two sliding glass panels (one in front of the other). The sunroof extends over the front and rear seats, making the cabin more relaxing for all occupants. When the sunroof is closed, the glass panels have a combined length of 1,000mm. When the sunroof is open, the aperture has a length of 560mm (one of the largest in this segment), giving occupants an invigorating open roof experience.
Pricing for the SX4 S-Cross is as follows:
1.6 SZ3 Manual £14,999.00
1.6 SZ4 Manual £16,249.00
1.6 SZ-T Manual £17,749.00
1.6 SZ5 Manual £19,749.00
1.6 SZ5 CVT £21,099.00
1.6 SZ5 ALLGRIP Manual £21,549.00
1.6 SZ5 ALLGRIP CVT £22,449.00
1.6 DDiS SZ3 Manual £16,999.00
1.6 DDiS SZ4 Manual £18,249.00
1.6 DDiS SZ-T Manual £19,749.00
1.6 DDiS SZ5 Manual £21,749.00
1.6 DDiS SZ-T ALLGRIP Manual £21,549.00
1.6 DDiS SZ5 ALLGRIP Manual £23,549.00