Norwich braces itself for big tourism boost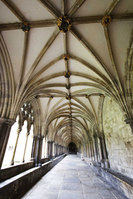 To celebrate the release of Alan Partridge: Alpha Papa in cinemas from 7th August, VisitNorwich and Norwich City Council Blue Badge Guides are launching a new walking tour of the city, designed with Partridge fans in mind. The "Alpha Norwich" walk is a 90-minute guided tour of the city so dear to Alan's heart. See the cloisters where he enjoys a spot of light jogging, London Street, the first conventional street to be pedestrianised in Britain and Norwich Castle where capital punishment once took place on a regular basis.
The Blue Badge tour also takes in one of his favourite haunts, Norwich Market, and several of the locations to feature in Alan Partridge: Alpha Papa, including The Guildhall, City Hall and The Forum. There will be five tours running over 9-11 August, costing £6 per person (including I Love Norwich bag and pot of Colman mustard!) and bookable through Norwich Tourist Information Centre (01603 213999). The tour can be booked on a private basis thereafter, costing £48 for groups of up to 20 people (£90 with goody bags).
Norwich has a long history of intriguing characters who have grabbed the headlines going back over 900 years. From AD 61 Boudicca - the Iceni Queen, 14th century Julian of Norwich, 17th century Thomas Browne, 19th century Anna Sewell and then in the 20th century along comes Alan Partridge.
Norwich has long had a reputation for free-thinking and good humour including strong creativity and a famous expression to "do diffrunt" taken from the local dialect. In 2012 the city became the first English city to become a Unesco City of Literature, this put Norwich centre stage once again.
Film tourism is a significant trend in England this year, VisitEngland has seen a healthy amount of tourists wishing to visit film locations - it is becoming increasingly popular. And Norwich has seen its fair share of films made in the city in part due to its large quantity of beautifully preserved historic buildings which provide stunning locations and backdrops for big screen productions as well as a keenness to work together from Norwich City Council and residents to support the British film industry. Norwich boasts over 1500 historic buildings within its city walls, two cathedrals and a Norman Castle. It also has 33 medieval churches which is more than any other city north of the Alps. Last year Norwich Cathedral played an important role in Jack the Giant Killer and in previous years Norwich has been the backdrop in Stardust with Claire Danes and Dean Spanley with Peter O'Toole.
Carol Robinson, Norwich Blue Badge Guide tells in her 'Alpha Norwich' tour as she reaches Norwich war memorial, "The war memorial was originally in front of the Guildhall - designed by E Lutyens who described it as a "jolly monument" [he also designed the Cenotaph in London plus many others]. This is (was) the only monument in Britain to emit smoke and flames. Alan Partridge reckoned political correctness had "gone mad" when he was told naked flames were not permitted on a garage forecourt thus preventing his plans for a barbeque there. 'Health and Safety' problems mean that this memorial no longer emits the smoke and flames." Nick Bond, Head of Tourism at VisitNorwich said; "We are delighted to embrace the enthusiasm and popularity of our current most popular home grown talent, Alan Partridge. And we're thrilled that the decision to host the world premiere of Alpha Papa is going to be in his beloved city. Having the premiere here means an awful lot to many people and of course is a great boost for tourism in Norwich. Local people made this happen and we are more than delighted to work at keeping Norwich centre stage by offering the 'Alpha Norwich' special Blue Badge tour for a limited period."
Councillor Brenda Arthur, leader of Norwich City Council, said: "I was delighted when I heard Alpha Papa was being shown at our very own Hollywood Cinema in Anglia Square, even before it hits the bright lights of London. We were thrilled when Alan and his crew turned up at City Hall during filming and used our customer service centre for a scene where he pretended to be arresting a policeman - you can't get more glamorous than that!
"I really hope that people who see the film will want to come to Norwich and enjoy the fabulous offer we have here." VisitEngland's Chief Executive, James Berresford comments: "As the city's third most famous export (after Colman Mustard and Kettle Chips), it's great to see that Alan Partridge is finally getting the national celebrity status he deserves. I have no doubt that he will help drive visitors to the city - our research shows that 40% of tourists want to visit locations that they see in films - and will become to Norwich what Harry Potter is to Alnwick Castle and Lady Mary is to Highclere Castle, albeit in slacks and driving gloves."
For ideas and inspiration about what to do in and around Norwich see visitnorwich.co.uk
For further information about Alan Partridge: Alpha Papa visit facebook.com/AlanPartridgeMovie
northnorfolkdigital.org