1,208 x Porsche 911 = World Record at Silverstone Classic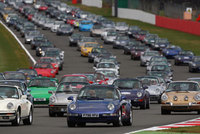 A pulse-quickening parade of more than 1,200 Porsche 911 sports cars took to the Silverstone Grand Prix circuit on Sunday (28 July) – a world record number – as the Silverstone Classic celebrated the 50th anniversary of the iconic coupe.

The plan to produce a parade of 911 x 911s was almost immediately exceeded when the celebrations were announced, with registrations building hugely in the months leading up to the event. Rather than settling for the initial target, the Porsche Club GB and Silverstone Classic organisations squeezed an incredible 1,208 examples of the 911 on to a packed circuit – creating a breathtaking sight in the process.

The sensational spectacle, which raised funds for the Hope for Tomorrow cancer charity, was led by a number of famous Porsche personalities as tens of thousands of fans looked on.

Mark Porsche, son of 911 designer, Ferdinand Alexander 'Butzi' Porsche, and great-grandson of the marque's original founder, Ferdinand Porsche, got proceedings under way and he was joined by a number of the sports car manufacturer's most successful racing drivers.

Former F1 driver and five-time Le Mans winner Derek Bell MBE joined in the occasion, along with Richard Attwood – winner of the 1970 Le Mans 24 Hours for Porsche – and fellow 'legend' and race driver John Fitzpatrick. Porsche owners and enthusiasts made up the remainder of the colourful convoy culminating in the remarkable world record number, which spanned virtually every possible derivative of 911.

The parade comprised the most famous 911 models from past and present, including legendary Carrera, RS, RSR, GT, Speedster, Targa and Turbo variants. A number of distinctive race and rally versions of the 911 also featured in the cavalcade.

"Of course, the 911 means a great deal to me as it's my father's big design and it will always have a special place in my heart," said Mark Porsche. "It's been a family member over all the generations of the 911 series and I'm very proud to be here today to represent the Porsche family at this great event. I think that to have these 1,200 cars on track is the attention that the 911 deserves for its 50th birthday. I can't thank the Porsche Club GB enough for making this event possible."

Ragnar Schulte, General Manager, Marketing, Porsche Cars GB, commented; "It has been wonderful for the 50th anniversary of the Porsche 911 to be celebrated in this spectacular parade. I would like to say a big 'thank you' to the Porsche Club Great Britain for the immense organisation and effort they have put into this. Also, Sandra Mayr, Manager International Porsche Club Coordination in Stuttgart, also played a key role in realising this proud moment."

"It's because of the 911 that Porsche had the financial resources to go racing, and create history with the 917, 956, 962 and all the wins we had around the world with my fabulous team-mates," said Derek Bell. "Porsche did a lot for me, so to be here in this parade driving a 911 around my home track of Silverstone is a great honour."

Porsche Cars GB 'Project 50' 911 race car in action
On the Saturday evening prior to the Parade, the Porsche Cars GB 'Project 50' 911 race car took to the track in the Piper Heidsieck International Trophy for pre-1966 GT cars. Behind the wheel in the two-driver event were Gordon Robertson, Chief Driving Consultant of the Porsche Experience Centre (located adjacent to the Hangar Straight at Silverstone) and Barry Horne, 2003 Porsche Carrera Cup GB Champion.

After a sunny qualifying, the heavens opened prior to the race and made for challenging circuit conditions. However, the Scots duo made good progress in the 1965 2.0 coupe and crossed the finish line fifth in class and 30th overall.

The team is now preparing to participate in the OldTimer GP at the 14-mile Nürburgring in Germany, held appropriately on 9 - 11 August.