Increased UK supply for in-demand Subaru BRZ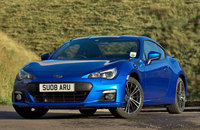 Subaru UK has secured an increased supply of the Subaru BRZ for the British market, enabling it to better meet the strong demand for the rear-wheel drive sports car. The news coincides with confirmation that a number of Subaru UK-approved BRZ performance, handling and styling modifications, courtesy of Pro-R, will soon be unveiled for the UK market. The new parts will be available in the coming months through Subaru's UK dealer network.

The BRZ was launched in spring 2012, though limited initial supply meant that high levels of demand from British buyers couldn't be met. The continued popularity of the model has enabled Subaru UK to secure a larger annual allocation of the BRZ from the brand's Gunma factory in Ota-city, Japan.

With a greater number of cars being brought into the country, in most cases buyers will be able to take delivery of a new BRZ within two to six weeks of placing an order, depending on final spec and colour choice.

Paul Tunnicliffe, Managing Director of Subaru UK, commented: "The BRZ has been a sales success for us, but we've always struggled to match demand with supply. We're hoping that our larger allocation will address this, and we're confident that a greater number of car-loving buyers will now be able to appreciate the BRZ's blend of light weight, usable power and fine handling characteristics."

To find out more about the Subaru model range, visit subaru.co.uk.