Subaru dealers get top marks in Driver Power Survey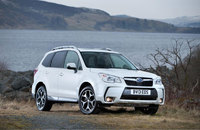 Subaru UK's dealer network has again scored highly in the 2013 Auto Express Driver Power survey, further improving its ranking in the influential annual survey of 46,000 UK motorists' satisfaction in their cars and dealerships.

The 50-strong Subaru dealer network rose from an already creditable eighth place in 2012, up to second in 2013, beating all of its nearest rivals for motorists' trust in their dealers, and only losing out on the top-spot to luxury car brand Lexus.

Motorists taking part in the survey rated Subaru dealers in particular for 'helpfulness and attitude', 'standard of workmanship', 'value for money' and 'technical knowledge'.

Overall, 89.28 per cent of Subaru owners were satisfied in their dealer, with one reader explaining that their local dealer was "very courteous, always helpful and keenly priced." In Driver Power survey results published earlier in the year, Auto Express listed both the Subaru Legacy and Subaru Forester in the top 100 most satisfying cars to own according to British motorists.

Steve Fowler, Editor-in-chief of Auto Express commented: "When it comes to keeping customers satisfied, Subaru dealers certainly know what's important. They may not have the flashy premises of some rivals, but it's relationships that matter and Subaru customers really value theirs with their dealers."

Paul Tunnicliffe, Managing Director of Subaru UK, said of the result: "This result – our highest ever in the Driver Power survey – is testament to the considerable time we've invested on assessing the performance of dealers in after sales care. We survey every service customer in real time, and so are able to jump on problems before they become an issue. This result proves the effectiveness of this programme.

"In addition we don't focus on having expensive, fancy premises to enhance the customer experience; for us its about good technical knowledge and developing relationships with our customers. A second-place ranking puts our dealers well ahead of many of the prestige car makers and all of the mainstream ones and is proof that the brand holds customer satisfaction close to its heart."

Every Subaru model is sold with a five-year, 100,000-mile warranty and a 12-year manufacturer anti-corrosion warranty as standard, while all vehicles come equipped with a choice of efficient petrol and diesel Boxer engines and benefit from Subaru's enviable record for build quality and durability.

To find out more about the Subaru model range, visit subaru.co.uk.