Fiat Professional delivers strong growth in first six months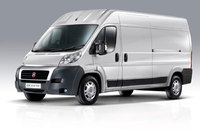 Fiat Professional, the commercial vehicle arm of Fiat Group, has announced strong growth in the first six months of 2013 resulting in the brand being one of the fastest growing LCV brands in the UK market today.

The Fiat Professional brand recorded January-June sales figures of 7150 units – up more than 50 per cent over the same period in 2012 ­– resulting in an increase in LCV market share of 1.3 percentage points compared with last year.

This result is led by the success of Fiat Professional's award-winning range of commercial vehicles, which are widely-regarded throughout the industry, and which have firmly established themselves as class-leading products in their respective segments.

The addition of new Tecnico versions on the Ducato, Doblò Cargo and Fiorino models has been well received by customers, offering environmentally-friendly solutions and great value for money products.

The Doblò Cargo range continues to perform strongly and has recently been expanded to include new additions such as the Doblò XL and Doblò Maxi Crew Van versions. Fiat Professional's versatile Ducato offers customers even greater safety and value with the addition, as standard, of ESP (electronic stability programme) across the entire range of Ducato vans, chassis cabs, combis and minibuses.

Commenting on the half year figures, Sebastiano Fedrigo, director, Fiat Professional UK said: "We are delighted with the results achieved so far and it is particularly pleasing to see more and more customers driving our products.

"The Fiat Professional brand is growing and continues to make significant strides within the UK market. We are growing both in the corporate fleet sector and the retail sector where our strong network restructure has proven very successful with June 2013 network registrations up 80 per cent higher than in the same period in 2012.

"We will be working hard to consolidate these results and are looking forward to further new appointments across the network in the very near future – testimony to the strength of our product offering and network back up."

Further information on Fiat Professional's range of commercial vehicles is available at fiatprofessional.co.uk.