Lowest CO2 and LED light for new 184PS Audi A3 TDI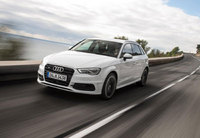 Audi is widely regarded as an industry luminary where both lighting and TDI technologies are concerned, and the latest developments for the all-new A3 underscore this fact. The acclaimed compact now offers the option of advanced Light Emitting Diode (LED) headlights achieving daylight-like levels of illumination, and can also now be equipped with a new 2.0-litre TDI engine variant which is the most powerful ever to be offered by the Vorsprung durch Technik brand.

Renowned for using LED technology to spearhead the transformation of the once unassuming daytime running light into an elaborate design hallmark – a move which has since been mirrored by countless manufacturers – Audi is again leading the way by being the first to bring the benefits of LED headlamps to the premium compact class. The distinctive and highly efficient new alternatives to the more familiar xenon gas discharge headlamps, which will continue to be offered, are available for every A3 and S3 variant.

In SE and Sport models, they can be specified as part of a new LED lights package costing £2,000, which also includes LED rear lights, light and rain sensors and LED ambient interior lighting. In S line and S3 models they are available as a stand-alone option costing £795.

Nine high-performance LED chips in two free-form reflectors generate the low-beam light in the new headlights for the A3, while the high beam uses ten high-performance LEDs to emit light through an aluminium aperture. Static turning and all-weather lights are housed in a separate module, while the daytime running and parking lights and the indicators are formed by a light guide that wraps around the upper and inner headlights.

Multi-function lights

The static turning lights further expand the breadth of illumination when cornering and direct additional light to exactly where it is needed, while the all-weather light eliminates the need for conventional fog lights and reduces glare in poor visibility. Motorway lights which elongate the field of illumination at speeds of over 68mph, and junction lights which widen the beam at intersections to improve safety are also integrated, as is a travel mode which, when a navigation system is installed, uses GPS data to automatically adjust the headlamp beams for right-hand-drive countries to avoid blinding oncoming drivers.

With a colour temperature of around 5,500 Kelvin, the LED light resembles daylight, helping to reduce eye fatigue. The light-emitting diodes are maintenance-free, designed to last the life of the vehicle, and are exceptionally efficient. The low-beam light, for example, only consumes around 40 watts, which is five per cent less than xenon plus units.

Like many of the assets in the Audi technology portfolio, LED headlights have evolved with the help of endurance racing and its unique and extreme challenges. They made their debut in the R 15 TDI Le Mans sports prototype in 2010, and in 2011, further developed full-LED headlights were installed for the first time in the R18 TDI. With their combined lighting power of over 200 watts, the LEDs generate a light pattern with a range of over 0.6 miles. Their equivalent luminous intensity of over 1,000 lux is five to seven times greater than headlights in production cars.

The sophistication of Audi TDI technology has also been accelerated by its key role in Le Mans, and the benefits in terms of power, response and efficiency can now be enjoyed in a new upscale version of the 2.0-litre TDI that also joins the range to coincide with the new lighting option. Initially available for three-door A3 and five-door A3 Sportback models, but also due in the all-new A3 Saloon during 2014, the new unit delivers 184PS and a 380Nm torque peak between 1,750 and 3,250rpm, and supplements the 150PS version which has been available since launch. It is also notable as the first diesel unit in the UK line-up to be offered in conjunction with either front-wheel-drive or quattro all-wheel-drive.

Front-wheel-drive versions are equipped as standard with a six-speed manual gearbox, and quattro variants with the six-speed S tronic twin-clutch transmission.

Compliant with 2014 EU6 emissions standards

The six-speed manual A3 2.0 TDI 184PS can complete the 0-62mph sprint in 7.3 seconds and continue to a 145mph top speed, while at the same time returning up to 68.9mpg in the combined cycle test, and emitting 108g/km of CO2, less than all comparable premium sector competitors. The fact that this advanced unit already complies with more stringent EU6 emissions regulations applicable from 2014 bears testament to its exemplary efficiency.

In quattro versions, a newly developed multi-plate clutch directs proceedings. The hydraulically actuated and electronically controlled component can send power from the front to the rear axle in just a few milliseconds and weighs significantly less than the previous unit.

In the interest of better axle load distribution, the clutch is located at the end of the prop shaft, in front of the rear differential. Inside it is a package of plates which rotate in an oil bath. During normal driving, the clutch sends most of the engine's power to the front wheels, but if they start to break traction it can transfer torque in varying degrees to the rear axle almost instantaneously by pressing the sets of plates together under control.

Whether in Sport or S line guise, the new 184PS TDI models, like all A3 variants, are available with either comfort-oriented standard suspension, or sports suspension lowered by 15mm over standard and with a tauter, more handling-focused bias. S line models can also be equipped with S line sports suspension, the most overtly sporting set-up with a ride height lowered by 25mm over standard. All options are available at no cost.

Continuing on the options theme, a new black styling package also becomes available this week for all Sport and S line versions of the A3, and for all S3 variants, priced at £395. It brings a high gloss black treatment for the radiator grille surround and its struts, a matt black finish for the grille itself, for the side air intake grilles and for the number plate holder and a platinum grey look for the diffuser.