Audi sets fastest speed for in-car mobile connection ahead of 4G launch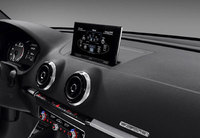 From tomorrow new lightning quick 4G/Long Term Evolution (LTE) Internet connectivity is set to significantly increase speeds on London's information superhighway, and true to its Vorsprung durch Technik philosophy Audi is the first car manufacturer to offer a ready-to-order production model capable of capitalising on this advanced new Mobile Internet standard.

Appropriately, the fastest member of the five-door A3 Sportback family - the 300PS S3 - is the first to integrate the high-speed connection, facilitating conference calls en route to Canary Wharf, demanding downloads in Docklands or surfing alongside the Shard.

LTE technology can be ordered for the Audi S3 Sportback now, and for all other variants of the A3 family from November, ready for the wider network roll-out of the technology across the UK during 2013. The integration of 4G/LTE marks a very important step in the evolution of the Audi connect system, which networks the car with the driver and the Internet, and in the future could also provide an interface with the infrastructure and with other vehicles.

4G/LTE considerably broadens the scope of what is possible with in-car 'infotainment'. It enables the transfer of large amounts of data, such as music and films in HD quality, via the Internet. The LTE standard is also expected to provide a strong boost to the seamless use of media stored on a server on the Internet (data in the cloud).

To use LTE, MMI Navigation Plus with Audi connect is required – available as part of the Technology Package for the S3 Sportback - and a suitable SIM card with a data flat rate simply needs to be inserted into the appropriate slot in the glovebox. When passengers connect their mobile devices to the WLAN hotspot integrated into the car, they can surf the web independently of one another. For example, one passenger can participate in a video conference while another watches a video.

In the Audi S3 Sportback, 4G/LTE technology will accelerate the delivery of many of the services of Audi connect to the driver – from navigation with Google Earth and Google Street View to Audi music stream web radio and online traffic information. The latest incarnation of Audi connect in A3 and S3 models also offers social media access, a fuel station locator which incorporates distance and pricing information, and a local parking availability and pricing function.