Out of date maps cause one in three UK drivers to arrive late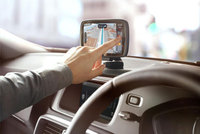 Drivers in the UK continue to drive with out-of-date maps, causing them to be late on a regular basis, according to research from TomTom.

From weddings to funerals to job interviews, more than one in three drivers have been late for a big occasion and 34 per cent of motorists have underestimated how long a journey would take - making them late for theatre productions, work events and even flights.

42 per cent of people using a paper map say they get lost on a car journey. This may not be surprising as one in four (24 per cent) motorists relies on a map that is more than three years old. Just one in 10 motorists has a map that is less than 12 months old.

The research among 1000 people showed that virtually everyone who owns a sat nav agrees it makes them more confident where they're going and leads to less arguments in the car. But 21 per cent of drivers admitted that the maps on their sat nav are never updated or are out of date.

"Britain's road network changes by up to 15 per cent a year yet it seems that many mapbooks used by drivers are years out of date - so relying on them to find your way around could cost you both time and money," says a TomTom spokesman.

"However, it's just as important to keep the map up-to-date on your sat nav - which is why all TomTom devices such as the new GO series now come with four complete map updates every year, totally free, for the lifetime of the product."

Other key findings included:
36% lost their way after following someone else's directions
33% have gone wrong being directed by a partner in their car
12% have missed the start of a wedding because they mistimed their journey
7% have been late for a funeral for the same reason
27% got lost after stopping and asking someone for directions
51% use a sat nav for directions compared with 19% relying on help from a fellow passenger, although 47% still use an old-fashioned map

"More motorists now use sat navs than don't use them, so they've become an automatic accessory for millions of car owners," added the TomTom spokesman.