Volvo teams up with Fleet21 in drive for fleet safety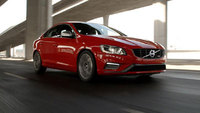 Volvo Car UK has teamed up with leading business driver safety consultancy Fleet21 to help reach its 2020 goal that no one will be seriously injured or killed in a new Volvo.

While it nears its ambitious target with its world-leading active and passive safety technology, Volvo hopes to tackle driver behaviour – a contributing factor in more than 90 per cent of crashes – by working with Fleet21 to create a safer driving culture among business fleet drivers and managers.

Volvo has led the way in developing safer cars, with technology such as its state-of-the-art City Safety system, while Fleet21 is an acknowledged leader in educating driver risk managers about the key issues and possible solutions in managing driver risk. As part of the partnership, the Volvo V40 - the safest car ever to be tested by EuroNCAP - will form the backbone of Fleet21's new training fleet.

Last year 148 people were killed in workplace accidents* and most employers go to great lengths to ensure the safety of their employees. Yet almost 2,000 people die each year on Britain's roads** - with around a third of these thought to be someone driving on business.

"While driver behaviour is a contributing factor in nearly all accidents, driver ability is often neglected by employers," explained Simon Turner, managing director of Fleet21. "Modern vehicle safety features can make a massive contribution to road safety and Volvo has always been a leader in this field so we at Fleet21 are incredibly excited to be working with them and using the V40 to fill this gap in driver safety by guiding, coaching and supporting employers in achieving 'best practice'. Together we'll help employers develop the attitude, awareness and skills of their business drivers. There's also the added incentive of saving businesses thousands of pounds in claims, policies and repairs."

The service provided by the new partnership encompasses everything a driver risk manager needs to take care of:
Compliance services include organisational risk assessment, driver licence checks and grey fleet checks, as well as help with developing and communicating robust driver policies to educate the driver and protect the employer.
Improving driver skills starts with a unique online driver risk assessment. The results allow risk managers to be much cleverer with their budget so they can target individual drivers with different programmes such as e-learning or in-car training, or tackle specific problems such as frequent speeding or poor observation and awareness.
Driver engagement is also a key concern and so Fleet21 and Volvo will be running programmes aimed at capturing the hearts and minds of both business drivers and senior managers to help promote a lasting safer driving culture within the organisation.

While employers have obligations under duty of care legislation, in the longer term, improving driver awareness and skill levels can potentially save companies thousands of pounds in reduced accident damage, personal injury claims and staff absence through injury. Carefully thought out and effective safety policies also mark organisations out as caring employers and good places to work, helping with recruitment and retention of quality staff.

Further financial savings can also be made through insurance policies. Fleet21's experts can guide employers through the process, liaising with insurance brokers and underwriters to ensure they are able to reduce their premium as much as possible.

Selwyn Cooper, Volvo Car UK national corporate operations manager, commented: "Fleet21 has a passion for driver safety that perfectly complements Volvo's ethos. With employers under a duty of care, giving drivers this extra training and education is putting them in the best possible place when they get behind the wheel of their company car. We are constantly working towards our vision that by 2020 no-one will be killed or seriously injured in a new Volvo, and going the extra mile to develop drivers as well as technology is another step in the right direction."