Seat unveils Leon Ecomotive and Leon TGI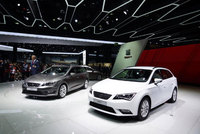 Alongside welcoming the Leon ST estate to the Leon model family at the Frankfurt Motor Show, Seat has introduced two extremely efficient versions: the Leon Ecomotive and Leon TGI. Both offer exceptional efficiency and therefore very low running costs.

The new Leon 1.6 TDI Ecomotive returns 85.6 mpg in all three body styles (five-door, SC, ST), making it the most efficient Leon ever. In the UK, its 87 g/km CO2 rating puts it into VED band A, meaning £0 first year VED and £0 thereafter.

The second newcomer, the Leon 1.4 TGI, is engineered to run on compressed natural gas (CNG), and has a very impressive CO2 figure of 97 g/km. Both models share the sporty performance of a 110 PS engine, combined with the agile and precise handling of every Leon.

The new Seat Leon Ecomotive is one of the most fuel-efficient cars on the market, with an 85.6 mpg combined fuel consumption rating giving it a theoretical tank range of over 940 miles. Thanks to its brand new 1.6-litre TDI engine with 110 PS and 250 Nm, the Leon Ecomotive also offers compelling performance, delivering a 0-62 mph sprint of 10.4 seconds.

Like every Leon, the Ecomotive features Start/Stop and brake Energy Recovery, and in addition it has a specially adapted six-speed manual transmission and tyres with low rolling resistance. Added to this are optimised aerodynamics, comprising a lower body shell, featuring closed-off cooling apertures at the front, additional under-body panels, and a roof spoiler with side spoilers at the rear windscreen.

The unique combination of highly emotional design, precise dynamics and exceptionally low running costs also applies to the second newcomer to the Seat family: the Leon TGI. Its newly developed 1.4-litre direct injection, turbocharged engine can run on either petrol or compressed natural gas (CNG).

The incredibly low CNG consumption, combined with the lower purchase cost of compressed natural gas, makes the Leon TGI one of the most economical cars around.

The engine in the Leon TGI delivers 110 PS, with the maximum torque of 200 Nm available from as low down as 1,500 rpm. In spite of its fuel efficiency, this bestows the Leon TGI with outstanding performance: 0-62 mph in 10.7 seconds and a top speed of 121 mph. Engineered for CNG and petrol, the 1.4 TSI offers an exceptional range – around 250 miles in pure CNG mode, with an average consumption rating of 3.5 kg of CNG per 100 kilometres, which equates to 94 g/km CO2. In petrol mode, it provides an additional range of 560 miles. So, if the two CNG tanks, with a combined capacity of 15 kg and located beneath the luggage compartment, and the 50-litre petrol tank are completely full, the Leon TGI achieves a theoretical range of over 800 miles.

There are currently no plans to offer the Leon TGI for sale in the UK.