Seat reveals full UK pricing for the new Leon ST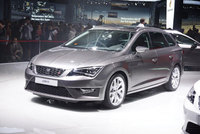 On the day that Seat officially unveils the new Leon ST to the world, at the 65th Frankfurt Motor Show, the company can announce full UK pricing for the car.

Starting at just £16,675, the Leon ST is only £825 more than an equivalent five-door version, making it exceptional value. That's especially the case because of the practicality it offers, with its 587-litre boot one of the biggest in its class – and bigger than plenty from the class above, too.

On sale 1 October, with first deliveries expected early January 2014, the Leon ST demonstrates that big is beautiful, matching head-turning looks with outstanding luggage-carrying capacity; its boot not only stretches to a whopping 1,470 litres with the rear seats folded, but also boasts a number of thoughtful practicality flourishes that make easy to live with day-to-day.

These include handles on the side walls of the boot that allow the rear seats to fold flat with a simple tug, and a lower lip that sits flush with the twin boot floor, easing the effort of getting heavy or bulky items in. (Standard on SE and FR cars.)

Every Leon ST comes with roof rails as standard, a double-floor setup in the boot, a rear reading light, and a 12V socket. In addition, a through hatch allows loading of long, thin items, while buyers can choose an optional fold-down passenger seat, for even greater load-lugging capacity.

The engine and trim range of the Leon ST is as per the five-door and SC variants, meaning an S-SE-FR hierarchy, with petrol engines ranging from the 1.2 TSI 105 PS, through the 1.4 TSI 140 PS and on to the most powerful 1.8 TSI 180 PS. On the diesel front, there are now two versions of the 1.6 TDI – a standard 105 PS variant, and the just-announced 110 PS Ecomotive. Following those are the 2.0 TDI units, with either 150 PS or 184 PS. A range of transmissions are available, from a five- or six-speed manual to a six- or seven-speed DSG automatic.

In line with a July inflationary price increase across the entire Seat model line-up, the company is raising Leon five-door and SC prices by £180 (1%), effective from 1 October 2013. The £825 price premium of the Leon ST takes these changes into account.