First bricks mark new housing development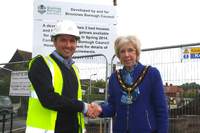 Families looking to setup home in Broxtowe Borough, Nottinghamshire, received a welcome boost last week as the first bricks were laid on a new housing development at Midland Road, Eastwood.

Mayor of the Borough of Broxtowe, Councillor Iris White was joined by Leader of the Council, Councillor Milan Radulovic, to lay the first bricks during the ceremony on Thursday 12th September, along with representatives from the contractor, Midlands-based Waters Homes.

The properties, on the former garage site on Midland Road, consist of two family homes and four bungalows and are one of four social housing projects currently under construction in the Borough, worth over £6 million.

Leader of Broxtowe Borough Council and Portfolio for Housing, Councillor Milan Radulovic said: "Broxtowe Borough Council is committed to providing good quality, affordable homes for local people.

"These new homes are just part of the Council's plan to develop sites and build affordable homes throughout the Borough, with other projects to be developed on sites in Chilwell and Stapleford.

"By developing difficult sites, we can help protect our greenbelt and bring derelict sites into good use as homes for local people."

Commenting on the project, Damian Waters, Construction Director at Waters Homes, said: "Affordable homes are a vital part of every community and, for us, it's also vital that they offer residents a high level of sustainability.

"All of the properties we're building on Midland Road conform to Level 4 of the Code for Sustainable Homes. That means they have a number of eco-friendly features that will ultimately help families and individuals save money and have a better quality of life. These include Photovoltaic panels on the roof, which convert solar radiation into direct current electricity and can significantly lowers utility bills."

For more information, visit broxtowe.gov.uk/housing. Further details on Waters Homes can be found at watershomes.co.uk.