Sopwell House gets a makeover and is looking good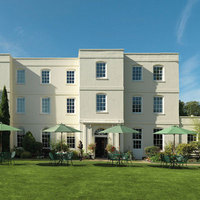 Sopwell House, the enchanting, St Albans, country retreat has been given a slick facelift, taking it from understated chic to the next level of contemporary, country house glamour. To date an investment in excess of £2.5 million has been made, with a further £1.5 million planned for 2014.
The refurbishments include updates to the Reception area, which now boasts timber floors, a granite countertop and an eclectic mix of sumptuous furnishings and contemporary art. The Cocktail Lounge and Terrace Bar have also both been overhauled and transformed into sophisticated, timeless rooms that are the ideal setting for a relaxed afternoon tea or late night cocktail.
30 of the hotel's 129 bedrooms are newly renovated and pave the way for two new room categories at the property; an Executive Suite with Balcony and the Executive Bedroom, both are ideal romantic getaways. Facilities in these rooms include new marble bathrooms, baths made for two, king size beds, boutique design and LCD TVs with SKY HD.
If that's not enough the already much loved and inviting spa area has been given a contemporary update at a cost of £1.2 million making for an overwhelmingly relaxing and pampering experience.
Regarding their brand new look, website and general direction Marleen Mason; Director of Sales at Sopwell House said; "A well-earned investment for the well-established and much loved Sopwell House! Following a long planning process, an extremely exciting time for our existing and potential clients to enjoy our tremendously improved facilities and services. The team and I very much look forward to welcoming you."
With the final renovation touches set for completion in early September Sopwell House is set to have the perfect recipe for a stylish country break. Offering guests all the ingredients for a relaxing yet stimulating weekend away. The leisure updates in the F&B areas, luxurious new rooms and spa, the hotel now boasts the perfect recipe for a memorable break with a side helping of lavish relaxation.
For more information, visit sopwellhouse.co.uk.