Flamenca & Torero Courses a la Carte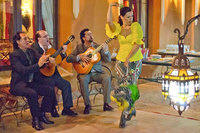 Discover the classic Andalucian cultural combination of Flamenco and bullfighting with new experiential packages from exclusive rental estate Cortijo El Carligto, the "Private Andalucian Hideaway".
From their base in the hills of Malaga Province, Cortijo El Carligto sets new experiential travel milestones offering unique inside access to the world of Flamenco and the torero, or bullfighter. Adding to an already impressive array of cultural and culinary tours, the privately owned farmstead has established personal contacts with numerous respected Flamenco performers and an experienced torero to develop bespoke packages launching in autumn of 2013.
Clients staying at the sprawling and stylish four bedroom cortijo may choose between various options, including tuition in Flamenco "puro" with posture, dance and palmas (rhythmic clapping) techniques for the ladies, and Sevillanas style Flamenco instruction for couples. Private Flamenco performances are also available on site at El Carligto, and the package culminates with a visit to one of Andalucia's famed tablaos, or Flamenco bars, where clients have a chance to participate and demonstrate what they have learned. It will even be possible for the participants to have Flamenco shoes and dresses custom made for them as part of the package.
The torero side of the package delves into the somewhat controversial world of Spanish bullfighting. The experience aims to investigate the culture and tradition behind the spectacle, seeking a deeper understanding of the contradictions, duality and multiple layers beneath the surface of a seemingly brutal practice, the final judgement being left to the individual. Participants will have the opportunity to visit a practice bullring, learn how the bulls are reared and even have a first hand chance to practice against a baby bull – still no fearless feat! The experience culminates with a ringside visit to a live bullfight, where clients meet with the torero in advance and witness all of the traditions and superstition that precede the actual event.
The packages include culinary delights in addition, with private chef service at the "gastro-villa" that is Cortijo El Carligto, and traditional Andalucian dishes such as ox tail and stewed beef cheeks to accompany the study of the bull. The extensive list of additional in-house service offerings such as spa and beauty treatments or 24 hour concierge (including assistance before, during and after the visit) remain available to all clients of the "five star cortijo".
This classic, romantic Andalucian combination package is the latest in an extensive repertoire including, most recently, a full butchering and cooking course as part of a culinary and cultural study of the famous Iberian pig. Other existing tours include market, winery and olive oil milling tours, harvest holidays and a poolside paella cooking course with one of the three private chefs (one with a Michelin rating) available for personalised service at El Carligto.
For more information, visit carligto.com.