Rolling out the red carpet for the superjumbo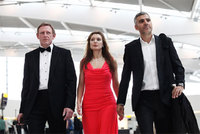 The British Airways A380 will take to the skies for its first long haul flight today (Tuesday 24 September) on the BA269 to Los Angeles at 4.15pm. It will be the first and only A380 aircraft to operate between London and Los Angeles.
To mark the launch of the new service, passengers in Terminal 5 had to double take, as George Clooney, Angelina Jolie and Daniel Craig look-a-likes checked in early for the flight.
Passengers on the inaugural will be treated to music from Melanie C and Matt Cardle performing live in Terminal 5, ahead of the flight's departure.
Dubbed the 'red carpet route' for its glamour, style and direct route to Tinseltown, British Airways' A380 already has a string of celebrity fans. These include Hollywood actress Thandie Newton who described it as "a grand hotel in the sky", as well as actress Gemma Arterton, model Georgia May Jagger and South African rugby player Bryan Habana – all frequent fliers who helped to launch the route.
More than 318,000 Brits flock to Los Angeles every year, accounting for the top five international visitors to the city, along with Mexico, Canada, China and Australia.
A380 Facts
The length of the A380 is the equivalent of 8.5 double-decker buses, or 16 black cabs
British designers have produced exclusive goodies for VIP guests on the A380 inaugural, including luxurious Sunspel pyjamas and a leather Dunhill case
A five-course tasting menu by The Langham is available to First customers, including poached lobster, chicken tea and seared scallops
Exclusive to A380 First class customers, the new Aromatherapy Associates washbag contains firming eye serum, revitalising moisturiser, deodorant and other goodies
The surface of the A380 is covered in three layers of paint weighing around 500kg – the same weight as two Gorillas!
The Airbus A380 is a double-deck, wide-body, four-engine jet with the lowest emissions per passenger of any large aircraft
The A380 is the world's largest commercial jet and 16 per cent more fuel efficient than the aircraft it replaces
British Airways' A380 will have a total of 469 seats over two decks with four cabins
If all the wiring in the A380 is laid end to end, it would stretch from Edinburgh to London (320 miles)
There's more than 130 Hollywood blockbusters showing on British Airways' A380
British Airways' A380 will fly between London Heathrow, Los Angeles, Hong Kong and Johannesburg
Return fares to Los Angeles on the A380 start from £508 return per person, available on ba.com.