Celebrate the National Chocolate Week at The Malvern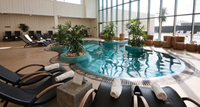 Even though most of us can get through a full box of chocolates in just few minutes, a good chocolate requires more than just one bite. As good wine, chocolate tasting requires all of your senses if you really want the true chocolate experience. Since chocolate was first discovered the flavours and the magic of each and every guilty pleasure have been known to make people sigh with delight.
This 14th to 20th of October, chocoholics everywhere can celebrate their passion of all things cocoa without feeling guilty as it's undoubtedly one of the best weeks in the year….. National Chocolate Week!
But, if you would prefer to indulge in chocolate the calorie –free way, The Malvern Spa is offering a special Cocoa Chocolate Back Massage (RRP£35 – 30 mins). Mouth-watering pampering for the back using Dead Sea Salts, Essential Oils and warm 100% Pure Cocoa Butter, this body scrub and massage is unforgettable. A guilt free sensation to leave skin hydrated, re-mineralised and smelling gorgeous.
During the day you can relax in the Grand Salon amid the ancient olive trees, spend time 'taking the waters' in the deliciously warm waters of the indoor-outdoor hydrotherapy pool fed by the Malvern spring waters - an experience not to be missed… the 'Chocolate Back Therapy' treatment' at The Malvern is a deliciously indulgent yet affordable treat!
The Spa features 10 treatment rooms offering a wide range of relaxing and indulgent treatments using products from ESPA, REN and CACI. Should you be feeling energetic The Malvern also features a fabulous award winning, state-of-the-art 50 station gym complete with TV screens and personal I-pod docking
For further information, visit themalvernspa.com/spa-special-offers.