Success in key markets secures continued growth for Bentley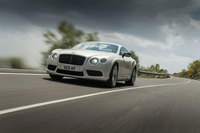 Bentley has built on its successful performance for the first half of 2013, after announcing that global customer deliveries to the end of September have grown by nine per cent (6,516 cars) against the same period in 2012 (5,969 cars).

Bentley's largest market, the Americas, sustained its strong growth, with Europe and the Middle East also posting impressive gains, driven by sales success across all model lines; the new Flying Spur, Continental GT and Mulsanne.

Kevin Rose, Bentley's Board Member for Sales, Marketing and Aftersales, commented: "Strong performance from our W12 models continued, with the Continental GT Speed and Continental GT Speed Convertible proving successful in all territories. This, added to increases in our V8 and Mulsanne models, maintains our impressive performance and strongly reinforces our position as market leader among our direct competitors in the luxury car market."

The Americas strengthened its position as Bentley's largest market, delivering 2,022 cars to customers, a 16 per cent increase on the same period in 2012.

Buoyed by recent dealer expansion, with 44 Bentley dealers now in Continental Europe alone, the European market posted a 14 per cent growth to 1,081 cars, with the UK delivering 1,055 cars, representing a 24 per cent increase.

The Mulsanne, Bentley's flagship model, continued to prove popular in the Middle East, with a 53 per cent delivery increase, with the market as a whole growing to 596 cars, rising by 26 per cent. There was a similar story in Asia Pacific, where 315 cars were delivered to customers, a 38 per cent increase.

In Asia the Bentley growth in Japan continued with a 9 per cent increase in deliveries (142 cars). In China, with the eagerly anticipated new Flying Spur deliveries having commenced in the third quarter, 1,264 cars were delivered, representing a 17 per cent decrease over last year.

Overall, Bentley remains optimistic to reach double digit growth of its sales figures in the full year 2013.