SUV of the Year award for new Subaru Forester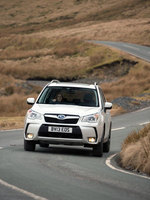 Subaru's best-selling model, the Forester compact SUV, has won the coveted 2014 Sport / Utility of the Year award from the USA's influential Motor Trend magazine.

The Forester's latest accolade makes Subaru the first and only brand to have won three Sport / Utility of the Year awards from Motor Trend, which is read by over 1.1 million people every month. The previous-generation Forester picked up the award in 2009, and the Subaru Outback was also crowned winner in 2010.

The Subaru Forester beat 21 other SUVs to take first place during Motor Trend's exhaustive testing process, with models graded according to six criteria: Design Advancement, Engineering Excellence, Intended Function, Efficiency, Safety and Value. The new Forester scored highly in all categories.

Motor Trendeditor-in-chief Ed Loh commented: "Smart design, thoughtful engineering, and a compelling performance on-road and off were the keys to the Forester's win. Our editors were particularly impressed by the powerful yet efficient turbocharged engines, the intelligent and sporty CVT transmission, and the excellent visibility and interior package. Practical, affordable, efficient and fun-to-drive – the Forester truly ticked every box."

The new Forester went on sale in the UK in May 2013, and builds upon the model's reputation as a modern, rugged SUV with improved performance, safety and efficiency and a more spacious and better appointed cabin.

Since the UK launch, sales of the new model have been strong, with particularly high demand for the XT Turbo model which is bucking the market trend for diesel SUV sales, equipped as it is with a 240ps 2.0-litre turbocharged direct injection petrol engine delivering smooth and strong pulling power both on and off-road.
To find out more about the new Subaru Forester and the rest of Subaru's range of All-Wheel Drive models, visit subaru.co.uk.