Audi A8 wows technophiles at T3 Magazine Gadget Awards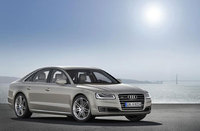 Technology aficionados at the UK-based T3 Magazine have added a new 'Car of the Year' category to their annual Gadget Awards, and Audi is proud to be the recipient of the inaugural award for the A8 luxury saloon.

Presented recently at a high profile ceremony in London that also honoured many other ground-breakers from the worlds of computing, mobile communication, photography, audio and visual entertainment, the awards are allocated not only on the strength of verdicts from a panel of nine tech-savvy journalists, but also based on over 500,000 votes cast online on the T3 website.

Kieran Alger, T3 Magazine Editor-In-Chief, summed up the intensity of the competition for the awards and the calibre of the winners by saying: "This year's awards have been the hardest fought yet. Every single winning product is truly an outstanding example of innovation and design." In its citation the A8 is described as 'a tech-head's dream motor', and Editor Luke Peters closes by saying "you know a car's good when you don't want to get out of it".

The primary focus of the Car of the Year award is not surprisingly technological merit. Singled out for particular praise in the A8 are its advanced adaptive air suspension system, its Audi connect technology bringing internet-based services such as Google Earth navigation and Google Street View to the car and creating a mobile wi-fi hotspot, and its 'unrivalled entertainment systems'.

Built around the advanced, predominantly lightweight aluminium Audi Space Frame, the Audi A8 range has recently been further enhanced by subtle styling revisions, equipment upgrades and improvements to engines, all of which now meet tougher EU6 emissions limits applicable from 2014.

New MatrixBeam LED headlights

Of particular interest to the gadget lovers at T3 will be the futuristic new MatrixBeam headlights and dynamic indicators which become standard equipment for some new generation A8 models. The 25 individual LEDs in each MatrixBeam headlamp unit can be switched on and off or dimmed individually depending on the situation, meaning that the on-board computer can mask specific sections of the high beam by dimming or deactivating individual diodes when it detects other vehicles travelling ahead in either direction.

The lighting system in the A8 also uses predictive route data from the navigation system to adjust the distribution of light in response to the current driving situation, and can recognise and act on route data, such as corners and road classifications.

The dynamic indicators comprise blocks of LEDs arranged in a strip which are sequentially illuminated at 20 millisecond intervals, from the inside outwards, in the desired turning direction. This 'sweeping function' makes it even clearer to surrounding road users that the A8 is about to turn.

Cutting edge features are also very much in evidence in the engine bay of the new generation A8. This can now be filled by a wide range of EU6 emissions-compliant units including the latest 435 PS twin-turbo 4.0-litre V8 TFSI or naturally aspirated 500 PS 6.3-litre W12 FSI engines, both now incorporating fuel-sparing Cylinder-on-Demand technology, or by a hybrid system combining a 2.0-litre four-cylinder TFSI engine with an electric motor.