Mercedes-Benz UK launches Daimler Fleet Management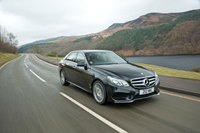 Daimler Fleet Management has been launched, delivering greater choice and flexibility to both new and existing Mercedes-Benz fleet customers.

The news comes as Mercedes-Benz in the UK announces its best ever month, with a 28 per cent rise in registrations in September supported by the strongest quarterly figures yet recorded by the brand.

As new records are set and a greater range of vehicles is offered by Mercedes-Benz than ever before, the fleet offering has also been upgraded - allowing a more responsive, efficient and diverse range of options to be made available to fleet buyers.

Supported by Leasedrive and Mercedes-Benz Financial Services, Daimler Fleet Management allows customers the choice of managing not only their Mercedes-Benz and smart vehicle requirements but other brands as well – leading to greater convenience and an attractive one-stop-shop option.

Nick Andrews, Head of Fleet Sales, Mercedes-Benz UK commented: 'New and existing fleet customers now have a more flexible and ultimately more straightforward service for their fleet needs – which can only be a good thing. We're looking forward to offering the best possible customer support as well as a range of benefits through the partnership with the experts at Leasedrive.

'On a commercial basis, to have Daimler Fleet Management in place as our year-to-date performance on the fleet market is setting new records means we can build on the positive momentum achieved in the first three quarters of growth as we aim to exceed our achievements in 2012.'

The new Daimler Fleet Management service is now live, with existing customers being informed of the transition with no action on their part being required.