Skoda reveals that Yeti exists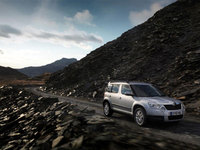 In response to findings from Oxford University surrounding the mystery as to the existence of the Yeti, Skoda has confirmed there have been more than 7,500 sightings on roads up and down the country during this year alone. The vehicle manufacturer has also found that every day motorists are looking to get their very own Yeti at 134 locations across the UK.

The Yeti has drawn considerable interest since it was first discovered by the British public in 2009. Furthermore, since it took its first big steps, it has been bestowed 15 awards by industry officials thanks to the crossover's exceptional performance and practicality as it roams the city streets as well as its more native mountainous terrain.

Naveen Dayal, National Communications Manager for Skoda UK, comments: "The Yeti has always been at the centre of attention. It's great to see that it's once again making the headlines because of its unique looks and behaviour.

"We found that people have been infatuated by the Yeti over the last few years, and so much so that thousands now own one."

Motorists have fallen for both the two and four-wheel drive variant of the Yeti which prides itself on its rugged styling, high body strength, and a raised ride height. This is in addition to the comprehensive list of standard equipment on the inside, which includes air conditioning and varioflex seating.

A slippery slope or winding road is no problem for the Yeti thanks to a choice of powerful and efficient petrol and diesel engines. The Yeti can cover up to 61.4 miles for every gallon of fuel used whilst emitting only 119g/CO2 for every kilometre that it travels thanks to Greenline II technology.

Prices start from £15,250 for individuals looking to get their hands on the Yeti and to discover for themselves what all the hype is about.