Avoid winter heating hikes with a long stay holiday to Spain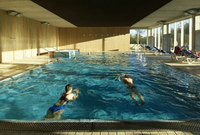 Here's a novel way of avoiding soaring energy costs this winter - escape the cold with a long stay holiday in Spain.
EuroParcs has launched breaks from six weeks to six months at two Spanish holiday villages, with accommodation prices starting from only £123 per week for up to six people staying in a modern two bedroom mobile home.
With typical daytime temperatures at Camping Marjal Costa Blanca near Alicante and Vilanova Park near Barcelona around 20oC from November to April, visitors can swap thermal undies and scarves for shorts and sunglasses.
Prices include access to a wide range of holiday village facilities, such as a heated indoor pool, hydrotherapy spa and fully equipped gym at Camping Marjal Costa Blanca and indoor pool and spa complex with jacuzzi, sauna, Turkish bath and gym at Vilanova Park.
Mike Hague holidays with his wife Catherine in Spain for up to six months every year: "We don't like the UK cold and feel much healthier in the Spanish climate. There is so much to do in local area and our family fly over to visit us - this is not a holiday, this is living."
Deborah James started taking six week holidays with her mum after being made redundant: "The facilities at Vilanova Park are amazing, with two massive pools, tennis and golf. We love the sense of community we get by staying at a holiday village."
EuroParcs' modern mobile homes include fully equipped kitchens for self catering, comfy bedrooms, hot showers and heating, plus satellite TV for a taste of home.
Says Rod Jones, managing director at EuroParcs: "For those who have the freedom, a long term holiday is a great alternative to a wet winter in the UK.
"Why stay at home with the heating on full blast when you can be holidaying just 30 minutes from Barcelona and tucking into paella on a sunny terrace?"
To find out more about long term holidays to Spain, visit europarcs.com.