Morris gives a great start to first-time buyers in Staffordshire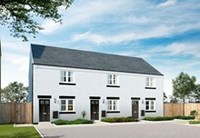 Morris Homes is urging first-time buyers in South Staffordshire to take advantage of its Great Start scheme to get on the property ladder with a deposit of just five per cent.
The initiative is available at Morris' Hatherton Place development in Cheslyn Hay to help local people buy their first home, and is only available to people who live and work in South Staffordshire.
With new figures showing 63 per cent* of people delay buying a home because they are worried about raising a big enough deposit, the scheme can help first-time buyers get on the move sooner than they thought.
Buyers using Great Start only need five per cent of the value of the property as a deposit to secure a new home at the New Horse Road development. Morris will then provide a loan of a further 20 per cent to use as a deposit.
With a combined deposit of 25 per cent the buyer is able to access a greater range of mortgages with lower interest rates, providing the extra assistance needed to get onto the property ladder.
Under the scheme the buyer owns the full property. The loan is interest-free for the first five years, and needs to be paid back over 10 years or when the house is sold.**
The initiative is only available to first-time buyers with a maximum household income of £60,000, and is offered on a selection of two-bedroom Budworth properties at Hatherton Place.
Cindy Cade, regional sales director for Morris, said: "Our Great Start scheme is ideal for local buyers in South Staffordshire that are struggling to get on the property ladder, as it can make it easier for them to secure a mortgage.
"There are only a limited number of homes available using the scheme at Hatherton Place, so we are urging interested buyers to visit the site now to reserve their new home before it is too late."
Hatherton Place combines a tranquil village location with convenient access for commuting into Cannock, Birmingham and Stoke-on-Trent. The two-bedroom homes available at the site with Great Start are on sale from £149,750 or £119,800 with the scheme.

For more information about the homes and offers at Hatherton Place visit New Horse Road, Cheslyn Hay, Walsall, WS6 7BH, visit morrishomes.co.uk.