Bamboo Travel urges visits to the Philippines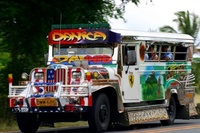 Coverage of the recent devastating typhoon that hit the Philippines has left the impression that the country is well and truly off the tourism map for the time being but this is not the case according to Tim Milner, Director of Bamboo Travel.
Comments Milner: "The media is doing a good job in generating money for the relief campaign but they are also giving the impression that all 7107 islands have been flattened, which is far from the case.
"The Philippines' Department of Tourism (DOT) has said that tourism will play a "significant role" in rebuilding the country after the devastation of Typhoon Haiyan and it is with this in mind that we would like to point out that many of the islands (such as Luzon, Cebu, Bohol & Palawan) are open for business and ready to receive visitors; they are so dependent on tourism for putting food on the table.
"January through to April is a prime time to visit the Philippines and people can not only enjoy a fantastic holiday but know that they are helping the recovery at the same time."
Bamboo Travel offers tailor-made travel to the Philippines but also has a choice of 'off the peg' itineraries from 14 to 23 days in duration and costing from £2595 pp for the 16-day 'Highlights of the Philippines'.
For more information, visit bambootravel.co.uk.
To make a donation to the disaster relief fund, visit dec.org.uk.