Ten of the best Hawaiian hotels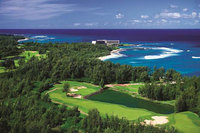 In honour of the much-anticipated release of The Hunger Games: Catching Fire, hotel comparison website trivago.co.uk has compiled a list of its top ten Hawaiian hotels. Hawaii is a destination like no other, boasting some of the most beautiful beaches, the world's most active volcanoes and renowned as the birthplace of surfing, hula dancing and Hawaiian regional cuisine.
The second instalment of the popular Hunger Games trilogy was partially filmed on the island of Oahu, taking advantage of the jungle habitat and coast of the North Shore. From the luxury hotel which hosted Jennifer Lawrence and the rest of the cast to five star resorts on Kauai, Maui and "the big island", here are some of the best options for exploring this unique group of islands.
1 Turtle Bay Resort, Oahu
Located on the North Shore of Hawaii's third largest island, Oahu, Turtle Bay Resort was the chosen hotel for cast members whilst filming Catching Fire. Not only did the cast enjoy the two lushly landscaped pool areas, championship golf course, renovated accommodation, outstanding dining and integrated wellness spa, but scenes from the film were shot onsite. The second Hunger Games instalment features Katniss, Peeta and the others battle in the ocean just metres from the resort. The North Shore boasts seven miles of white sand beaches renowned worldwide amongst surfers for their perfect and colossal waves. Guests can try their hand at surfing lessons, paddle boarding, kayak tours and kite boarding.
Rooms available from £161
2 The Kahala Hotel & Resort, Honolulu, Oahu
Located on the southest coast of Oahu in the exclusive Kahala district of state capital Honolulu, The Kalaha is one of Hawaii's most luxurious hotels, welcoming presidents, royalty and celebrities since 1964. The hotel features an oceanfront location with 250 metres of white sand beaches, secluded lush tropical gardens and a private lagoon with resident dolphins. Guests can choose between five world-class restaurants and 338 elegantly decorated rooms and suites, featuring complimentary Wi-Fi, 40-inch flat screen televisions, hand-embroidered linens and deep soak bath tubs. The hotel is a short distance from the picturesque Manoa Valley, a rumoured filming location for Catching Fire and set of many scenes in popular television programme Lost.
Rooms available from £263
3 JW Marriott Ihilani Resort & Spa, Kapolei, Oahu
Located on Oahu's equally picturesque west shore, the JW Marriott Ihilani prides itself for its seclusion and Hawaiian elegance. The resort boasts four beach coves and white sand lagoons, two pools, an award-winning spa, world-class marina, championship golf course and tennis courts with ocean views. Guests can choose between signature Italian, contemporary Hawaiian and traditional Japanese cuisine at one of the hotel's four restaurants, complimented by tranquil settings and impressive wine lists. In the 387 rooms and suites guests can enjoy 42-inch flat screen LCD televisions, marble bathrooms and balconies with breath-taking ocean or mountain views. A variety of activities are available, including water sports, scuba excursions, dolphin sailing and fishing.
Rooms available from £201
4 Four Seasons Resort Hualalai, Kona, Hawaii
Over on the island of Hawaii, otherwise known as "the big island", the Four Seasons Resort Hulalai celebrates Hawaii's Golden Age. Each of the 243 two-storey bungalows feature Island-inspired decor and native Hawaiian artwork, whilst the spacious furnished balconies allow guests to experience the best of indoor-outdoor living. Situated on the North Kona coast, the resort boasts a dramatic landscape of white sand beaches and volcanic black lava. Nearby attractions include the 128-metre Akaka waterfall, Hawaii Volcanoes National Park and the southernmost point of the United States. Guests should not miss the alfresco dining, local ingredients and signature cocktails offered by the three restaurants and two ocean-side lounges.
Rooms available from £408
5 Hilton Waikoloa Village, Waikoloa, Hawaii
Located just up the shore from the Four Seasons Resort, the Hilton Waikoloa is a prime choice on the popular Kohala Coast. This impressive resort boasts 62 oceanfront acres, 1,240 guest rooms and suites, 11 dining options and three swimming pools. Guests can enjoy an array of water sports in the hotel's own four-acre salt water lagoon, including kayaking, paddle-boating, hydro-biking and snorkelling amongst the tropical fish and rare green sea turtles. The resort is famed for its "dolphin quest" program, the only interactive dolphin program on the island allowing guests to touch, feed, learn and swim with these impressive mammals. Guests should not miss the beachside Luau party, complete with Hawaiian cuisine and traditional dancers.
Rooms available from £104
6 Koa Kea Hotel & Resort, Koloa, Kauai
Kauai is geologically the oldest of the main Hawaiian islands and is known as the "island of discovery" due to the striking cliffs of the Napali Coast and the vast Waimea Canyon. Koa Kea Hotel & Resort is ideally located on the south shore's world famous Poipu Beach, boasting breath-taking sunsets, exotic sea life and colourful native flowers. This boutique hotel contains 121 rooms with private balconies, a spa experience which focuses on natural ingredients and offers beach-side massages, and an oceanfront restaurant featuring fresh seafood and local produce. Kauai's diverse landscape allows for countless activities, including various hiking trails, mountain biking, zip-lining and helicopter tours over the crater of Mount Waialeale.
Rooms available from £244
7 St Regis Princeville Resort, Princeville, Kauai
On the opposite shore of Kauai, the St Regis Princeville is located within a 9,000 acre resort community, boasting sophistication in a spectacular location. The 460 square-metre swimming pool is the focal point of this hotel, decorated with glass tiles and surrounded by tropical gardens overlooking the ocean. The Anini reef protects the waters of Hanalei Bay, allowing guests to swim, snorkel and even scuba dive without leaving the comfort of the resort. It is also possible to horse ride through the majestic Na Molohama mountain range or kayak the scenic Hanalei River. At the end of a long day, guests can choose between candlelit private dining or the understated elegance of five different dining venues.
Rooms available from £238
8 Honua Kai Resort & Spa, Lahaina, Maui
Maui is Hawaii's second largest island, famed for its winter migration of humpback whales, Haleakala National Park and the scenic Hana coastal drive. On Maui travellers can explore ranches, vineyards and Makawao, home of Hawaiian cowboys. Honua Kai Resort & Spa is situated on the famous Kaanapali North Beach, with championship golf courses and world-class shopping just minutes away. Accommodation at Honua Kai ranges from spacious open-plan studios to luxurious 250 square metre speciality suites. Guests can expect stone entryways, fully-equipped gourmet kitchens, granite countertops and private balconies with ocean views. The 38 acre manicured gardens contain three landscaped pools and four conveniently places hot tubs.
Rooms available from £182
9 The Fairmount Kea Lani, Maui
Slightly further down the coast in Wailea sits The Fairmount Kea Lani, Hawaii's only all-suite and private villa resort, situated in an impressive 22 acres of tropical Hawaiian landscape. One bedroom suites offer at least 80 square metres of space whilst the two-storey oceanfront villas feature fully-equipped kitchens, private courtyards, plunge pools and barbeque grills. Guests can choose between four restaurants, from a gourmet bakery to the award-winning Ko restaurant, inspired by Hawaii's sugarcane plantation era. The new Willow Stream Spa will feature 800 square metres of space, unique Maui ingredients, outdoor spa cabanas and state-of-the-art treatments.
Rooms available from £218
10 Travaasa Hana, Hana, Maui
Over on the eastern shore of Maui, the isolated and untouched town of Hana is the first to greet the rising sun in the morning. Travaasa Hana promises to immerse guests in the real Hawaii, surrounded by grass fields and palm trees above Kaihalulu Bay, renowned for its natural beauty and red sand beach. This unique resort specialises in authentic Hawaiian experiences, from lei making to coconut husking, hula dancing and throw net fishing. Guests are encouraged to participate in a 'digital detox', with each of the suites and private cottages free from radios, clocks or televisions. Instead, guests can enjoy spacious balconies, private hot tubs and views of the Pacific Ocean.
Rooms available from £264