New housing developments creating new communities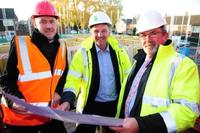 Construction is now underway at two new housing developments in Broxtowe that will provide 26 newly built homes for local people in need of affordable living.
Thanks to effective partnership working between developer Westleigh Partnership Homes, registered provider Nottingham Community Housing Association (NCHA) and Broxtowe Borough Council, 26 new homes over two sites will provide much needed affordable homes.
Hall Drive in Beeston and Wilson Road in Eastwood mark the start of a housing commitment between all three partners that will eventually result in over 100 new homes for the Broxtowe area in the future. Funded through the contribution of land from Broxtowe BC and grant subsidy from the Home's and Communities Agency's (HCA) Affordable Housing Programme, as well as private investment from NCHA, the two sites currently under construction will see take up £563,000 grant subsidy and circa £2m private finance, the schemes are due to complete in March 2014.
The two partnership schemes also aim to regenerate and breathe new life into sites that had become run down and unused in recent years.
Hall Drive in Beeston, a former garage site owned by the council, will see 10 new specialist homes, including two bungalows for wheelchair users and eight apartments. Meanwhile the new Wilson Road development in Eastwood will transform land that has previously been subject to fly-tipping and mis-use into a 16 new homes that will provide a mix of houses and apartments.
Gary Turner, Head of Investment & Partnership at Westleigh Developments, comments, "We are pleased to be able to start work on what are very important developments and part of our commitment to building over 100 new homes for the people of Broxtowe over the coming year.
"The developments will not only transform disused sites but create 26 new affordable homes in Eastwood and Beeston. This in turn will contribute to addressing the shortage of affordable homes in the borough and we are confident that the new schemes will be a great success, creating new communities and new opportunities for the future."
Allan Fisher, Assistant Director of Development and New Business at NCHA, says, "NCHA has been able to forge a strong partnership approach to development with Broxtowe BC which will lead to the development of many homes across the Borough in the coming years. It is the investment from all parties, that includes assets and financial resources that allows schemes such as these to get off the ground. These new developments at Hall Drive and Wilson Road are the first of many planned in the area and will be valuable affordable homes for the local communities".
Ted Czerniak, Director of Housing Leisure and Culture at Broxtowe Borough Council, adds, "After the long process involved in getting a start on site, it is immensely gratifying to see how well the construction period is proceeding. The excitement of seeing new affordable homes being built, and knowing that are more to follow, is what makes it all worthwhile and very satisfying."
NCHA, rated in the top quartile of housing associations on measure of performance, provides over 8,700 affordable homes for 15,000 tenants in the East Midlands and works with 29 local authorities. NCHA also supports 2,095 vulnerable people through its extensive provision of housing with care and support services.
Westleigh Partnership Homes are now part of the Homes & Communities Agency Delivery Partner Panel on both the Midlands and Northern lots and work closely together with housing associations to build affordable new homes throughout the East Midlands, South Yorkshire and Cambridgeshire. For further information, visit westleigh.co.uk.