Enjoy New Year in a new bungalow with Rippon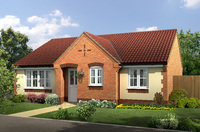 Home buyers can enjoy New Year in a new bungalow thanks to Rippon Homes, which is offering its part-exchange and sales assist schemes on homes in Forest Town.
The local house builder is ensuring its home buyers can enjoy a fast and easy move to Sherwood Gardens, where just one of its newly built bungalows remain for sale.
Sherwood Gardens is a small development of five individually designed bungalows conveniently located in a quiet cul-de-sac just off Sherwood Hall Road.
Brian Cripps, Field Sales Manager, comments: "We are making it easier for home buyers to swap their existing home for one of our brand new bungalows by offering our part-exchange and sales assist schemes at Sherwood Gardens.
"Our schemes are designed to speed up the buying process, as both allow us to help you move from your existing property, whether that's by purchasing your property from you or helping you to find a buyer.
"Four homes have already been reserved at Sherwood Gardens and interest in the remaining bungalow is high, so we're encouraging buyers to make an appointment to view this as soon as possible."
Part-exchange can speed up the sale of an existing home, as Rippon will act as a buyer.
It makes moving to a newly built home quicker and easier, plus there's little risk of the deal falling through.
With the sales assist scheme, a home owner's existing property will be advertised by an estate agent and Rippon promise to pay the fees, saving time and money.
The Salisbury, which sits at plot two, is a three-bedroom detached bungalow.
It benefits from a stylish fully fitted kitchen, modern bathroom, spacious lounge and master bedroom with fitted wardrobes and en-suite, as well as a single garage.
Brian adds: "As a name long associated with bungalows, we pride ourselves on listening carefully to our customers in order to create the type of home they want to live in, which is why we've coupled traditional homes with comfortable modern interior.
"Our homes offer numerous benefits compared to older bungalows, as the UPVC double glazing ensures they are more energy efficient and low maintenance."
The Salisbury is priced at £197,950.
For more information, visit ripponhomes.co.uk.