Top 5 male grooming trends for 2014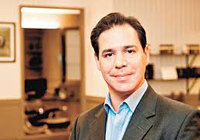 While the style conscious dapper gent is on the rise, grooming 2014 is all about achieving the look naturally says Olivier Bonnefoy, founder of Gentlemen's Tonic.
The gentlemen's English grooming establishment has been responsible for grooming over 100,000 men across all of their establishments since it was founded in Mayfair in 2005.
Take a look at the top 5 male grooming trends for 2014 below…
1. Under Cover
Camouflage is the new black when it comes to covering up those grey hairs. Subtle hair tinting which gives a more natural, blended look is in demand. For the majority of our clients it's about delaying the signs of ageing rather than eradicating them. What's important is that the colouring enhances the overall appearance in the most subtle way without attracting any comment.
2. Wide Eyed
Women have long known the power of eye contact as a valuable communication skill and it seems that us gents are now waking up to the benefits. Demand for eye opening treatments including semi-permanent eyebrow tints, eyebrow threading and waxing has increased substantially during 2013 with bookings remaining strong. Natural but tamed is the request when it comes to eyebrows.
3. Performance Grooming
We are witnessing an increased demand for grooming services which enhance certain sports and leisure pursuits. This includes leg waxing for keen cyclists and all over body hair removal for swimmers. In addition, hair styling lends itself to a very neat stylised fashion but which incorporates the practical issue of manageability. This extends to the growth of hair sculpting and styling products to achieve that neat, controlled look.
4. Beyond Movember
Where once the end of Movember meant the removal of the moustache, we're finding that our clients, particularly the younger males, are getting attached to their facial hair and instead requesting a neater, more classic look. As a result of the moustache taking on a year round role, we expect Movember moustaches to be bigger and wilder, making an even bigger statement.
5. The Rise of the Action Man
Strong masculine movies have always had an influence on men's styling and we expect 2014 to be a blockbuster year when it comes to the superhero look. With X Men Days of Future, the Amazing Spider Man 2, 300: Rise of an Empire, Captain America and Transformers 4 all showcasing in 2014, we're expecting the classic neat hair and barber style to take on a tougher look. Clipped sides, hint of a moustache and beard, healthy glow to skin – ready for life's adventures!
For more information, visit gentlemenstonic.com.