A Buddhist Blessing of Love at The Sarojin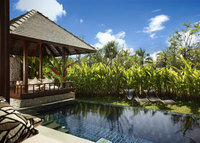 Luxury boutique resort, The Sarojin, has devised a special package to bring guests closer to traditional Thai customs, as well as to each other, this Valentine's Day. On 14th February, couples staying at the five-star resort have a unique opportunity to receive a spiritual blessing from a Buddhist monk and celebrate their union as the songlike Buddhist chants help to create a romantic setting for loved ones.
The Sarojin's new package, entitled 'A Buddhist Blessing of Love', is perfectly suited for those seeking something a little out-of-the-ordinary this Valentine's Day. Not only will it offer a rewarding glimpse of local life – something which The Sarojin specialises in – it will also present a meaningful and memorable way for couples to connect with each other and the Buddhist ethos of Thailand.
The experience begins with a morning journey to give alms to local monks as they leave their temples to walk through the local town, as they have done for centuries. From there the loving couple will transfer by luxury car to wander through the nearby town and market, before visiting one of The Sarojin's favourite pagodas to truly engage with Buddhist rituals. Offering a small basket of items to the monks is a sign of respect and the head monk will return his thanks with a blessing as he gently pours holy water over the couple while chanting ancient Pali-Sanskirt 'mantras'.
This simple yet deeply moving spiritual experience is exclusively available to guests of The Sarojin and marks a special way to honour a relationship, marriage or simply a special holiday with a partner. It has been introduced for Valentine's Day, but will be available all year round.
One of Thailand's most idyllic resorts, The Sarojin offers an endless array of special touches to make this romantic day a truly memorable one. In addition to the blessing ceremony, loved ones can enjoy spectacular private dining settings both in out of the resort. Options include an incredible dining venue beneath a cascading jungle waterfall that flickers with hundreds of fairy lights; on a beautifully-decorated pool pavilion in the tropical grounds of the property; or on The Sarojin's 11km stretch of secluded white sand beach where stars twinkle in the night sky and the gentle lapping of the waves adds to the setting.
There is also a multi-award winning spa, two gourmet restaurants, a sparkling infinity-edged swimming pool and complimentary sail boats for couples to enjoy at The Sarojin – perfect for lazy afternoons spent in the company of that special someone.
The Sarojin's new 'A Buddhist Blessing of Love' experience starts from THB 1,100 (approximately GBP 20) for two people. Rooms at The Sarojin start from THB 6,325 (approximately GBP 116), inclusive of accommodation in a luxury Garden Residence, plus all-day à la carte breakfast with sparkling wine for two people.
For more information, visit thesarojin.com.