Gateway to peninsular Malaysia's best kept diving secret open for business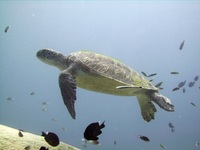 Tanjong Jara Resort has announced the opening of its Dive Season 2014 on March 1 this year, taking advantage yet again of its unique position as a luxury resort which not only fronts the pristine South China Sea and boasts a multi award-winning Spa Village, but is also located a mere 50-minute speedboat ride away from one of the region's best kept diving secrets, Tenggol Island.
One of Malaysia's most beautiful and serene islands, the untouched Tenggol in Terengganu Marine Park provides access to over 20 stunning diving and snorkelling sites, perfect for beginner snorkellers or advanced divers. Less than three kilometres long and two kilometres wide, the steep and rugged cliffs of Tenggol Island form a spectacular canvas of underwater sights. Bright corals and a vast array of stunningly vibrant nudibranchs are first to catch the eye, while a variety of species such as the giant double-headed parrotfish, yellowtail fusiliers, eagle rays, black-tipped reef sharks, barracudas and majestic sea turtles play cat and mouse.
Depths of up to 30 metres guarantee sightings of some of the world's most spectacular sea creatures such as the whale shark in its element; giant trevallies come in to feed and schools of jacks and barracudas prowl the reefs on the hunt. Whether it be 'Moonraker's' remarkable coral formations, climbing 10 metres tall from the seabed, or the spectacular fish life at 'Tokong Talang', 'Tanjong Api' or 'Tokong Timur', the resort's experienced dive instructors will lead guests on a journey of discovery.
Tanjong Jara Resort offers the Tenggol Divers' Delight experience for guests looking to explore the teeming marine world in the Terengganu Marine Park. This includes two daily dive excursions at Tenggol Island over two days and rental of dive equipment, sumptuous barbecue lunches on the beach, as well as daily breakfast and dinner at the resort. Available for booking till October 28, 2014, at a minimum of three nights', based on twin-sharing accommodation, rates for this package begin at MYR1540++ per room per night.
The resort's five-star in-house dive centre, operated by the award-winning Quiver company, also offers snorkeling day-trips, Discovery SCUBA Diving, Fun Dives and a variety of PADI course for guests looking to venture beyond the Tenggol Divers' Delight experience.
For further information on Dive Season 2014 at Tanjong Jara Resort, visit tanjongjararesort.com or ytlhotels.com.my to book your underwater escape.