World previews Alfa 159 Sportwagon and Alfa Spider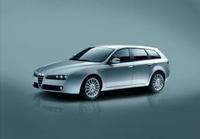 The forthcoming Geneva Motor Show in March will be the setting for the international public debuts of the Alfa 159 Sportwagon and Alfa Spider, thus completing the range to take Alfa Romeo into the future.

The Alfa 159 Sportwagon represents a consummate blend of Italian style and the performance and handling of a real sporting saloon, combined with the flexibility of use and versatility of space expected from a prestige estate. With the same overall length (4,660 millimetres) as the saloon, the new model has been given a decidedly sporty look, without the appearance of 'added-on volume' which tends to characterise a typical estate car.

The sleek lines of the long roof give it a coupé feel, as does the roof spoiler and the edgy aerodynamic styling, while a flexible and functional interior offers generous load volume. Alfa 159 Sportwagon offers strong performance and agile handling as well as a luggage capacity in line with that of a prestige estate, while also offering a versatility which satisfies the demands of today's modern lifestyles.

The Alfa 159 Sportwagon, available in the UK from late spring, will be available in two trim levels, with a wide range of exterior and interior colours. It offers three new JTS engines with continuously variable valve timing, (260 bhp 3.2 V6 24v, 185 bhp

2.2 and 160 bhp 1.9); and two MultiJet turbodiesel engines (200 bhp 2.4 JTDM 20v and 150 bhp 1.9 JTDM 16v). All of these are fitted with new six-speed manual gearboxes, and some versions will also offer automatic transmission.

Also making its debut in Geneva is the all-new Alfa Spider. A strikingly sophisticated sports car which both recalls a glorious Alfa Romeo tradition in this segment (from the Giulietta Spider in the '50s to the Duetto, and the 1990s model), and rolls out some cutting edge solutions in terms of mechanical specifications and engines.

The all-new Spider is a generously sized two-seater – 1,830 millimetres wide, 4,396 long and 1,367 high – characterized by elongated rear lights and four exhaust tail pipes which accentuate its exciting appearance. The interior is inviting and luxurious, thanks to the use of high quality materials and additional features (standard or optional, depending on the version) such as: automatic dual-zone climate control, steering wheel mounted audio controls, VDC and cruise control. Available in two versions, customers can choose a Spider powered by Alfa Romeo's 185 bhp 2.2 JTS engine, or the powerful 260 bhp 3.2 JTS. The all-new Spider will become available in the UK from early summer.

Both new Alfa Romeo models ensure outstanding dynamic performance thanks to high double wishbone suspension at the front, and a sophisticated Multilink arrangement at the rear. Along with impressive ride comfort, they both boast a sporty configuration and the use of state-of-the-art Q4 four-wheel drive (available on 260 bhp 3.2 versions). And like the 159 saloon, which was recently awarded the maximum five star Euro NCAP safety rating, the two new Alfa Romeo models epitomise the utmost attention to detail which goes into all aspects of safety, as well as offering the most sophisticated electronic vehicle dynamic control systems.