Alfa 159 wins Design Award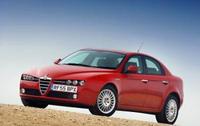 The new Alfa 159 has won the Design Award in the 2006 Fleet World Honours. The trophy was presented at a special ceremony held at the Royal Automobile Club, Pall Mall, on Thursday 18 May.

Fleet World Honours are presented annually to those motor manufacturers and service companies which have, in the opinion of the judges, achieved the highest possible level of excellence in their sector. The judging panel is chaired by industry professional, George Emmerson, who has managed fleets at IBM, NHBC and Black Horse Agencies. Members of the judging panel include Ken Rogers, John Kendall and Ross Durkin from Fleet World's editorial team, Alan Cole of Glass's Guide and fleet manager Jackie Pomfrett. Residual value, maintenance cost and reliability data is also provided by ALD Automotive, Hitachi Capital Vehicle Solutions and ING Car Lease.

Commenting on the award, Chairman of Judges George Emmerson says: "With the 159, Alfa Romeo aims to take a slice of the executive market segment that is dominated by highly competent, very efficient – and mainly German – products. It's a tough marketplace and Alfa is pitching for very high stakes with the 159. But, the 159 just looks wonderful. And it's a great car to drive as well."

Fleet World editor Ken Rogers comments: "Rarely has there been an Alfa Romeo that didn't look exciting, stylish and – yes, quite simply – Italian. The marque just has a charisma. Alfa Romeo is one of the very few manufacturers that can retain styling-cues from its classic designs of the nineteen-thirties and earlier, and yet still offer cars that look truly contemporary, fresh and desirable – without at the same time being self-consciously 'retro'."